The adorable, always humorous MBA Jane is my way of honoring our Sisterhood Merit Badge program, now with 6,065 dues-paying members who have earned an amazing number of merit badges so far—8,688 total! Take it away, MBA Jane!!! MJ 
Wondering who I am? I'm Merit Badge Awardee Jane (MBA Jane for short). In my former life …   
For this week's Garden Gate/Grow Where You're Planted Intermediate Level Merit Badge, I took a good, hard look at my lawn. I narrowed my baby blues and really considered and contemplated. And then I marinated in the knowledge of what I learned …
That manicured, square shaped piece of grass in the front of your house? The one that—may I venture to guess—is not getting much use, takes up a lot of water to keep green, needs mowing at inopportune times, and doesn't seem to have a point in life. Am I being impudent? (Look who's been brushing up on her grammar. Over here! Pick me!) Perhaps you're not as bad as I am at neglecting the space out your front window, but if you are, let's chat.
Front lawns are pretty enough, I suppose. But they're a surprising amount of work for a little patch of green. All that watering and mowing and removing of crabgrass or dandelions (although I like to let 'em live if I 'fess up. I'm a closet dandelion lover).
But, Jane, you say, I need a place for the kids to play! Can't roughhouse in a garden, can they? Well, says I, let's be honest. Half of us are guilty of spraying our patches of lawn with toxic chemicals just to keep it pretty and green (and keep the homeowner's association from frowning at us). Did you know that 100 million pounds of pesticides are used on lawns and gardens each year, many of them highly toxic to humans and pets? The CDC studied over 9,000 people nationwide and found pesticides in ALL of them; the average person tested for 13 of the 23 pesticides tested.
Do we really want the rugrats playing on all that nastiness?
There are lots of alternatives to just plain grass. Let's explore some, shall we, my little chickadees?
Rock garden
Wildflower patch
Shrubberies (go all Edward Scissorhands)
Cobblestones in a pathway or even a mini labyrinth maze
Fruit trees
Lawn art (doesn't have to be kitschy … although it could be!)
Move some of your backyard life into the front. If your chickens have a pretty fabulous coop and they like to visit with the wandering pedestrians, move them out front. Have nice patio furniture? Don't hide it in the back; be sociable and put it in the front. Kids have a swingset? I bet it would do your senior citizens heart's good to watch them play from across the street.
Herb plants, such as thyme, rosemary, mint, oregano, basil, etc. They smell a-MAY-zing when it rains! (And—helpful hint—they are perennials. Yay!)
Groundcovers such as: Irish Moss, Creeping Jenny (gosh, just the name alone makes me want some), Pretty Lamium, Blue Star Creeper, Green Carpet, Stone Crop, Creeping Wire Vine, Viola, Fleur de Lawn, Black Scallop Bugleweed, Chamomile, Pink Chintz, Elfin Thyme, Snow-in-Summer, Hardy Ice Plant, and Clover. Check to see which ones are native to your area and go crazy.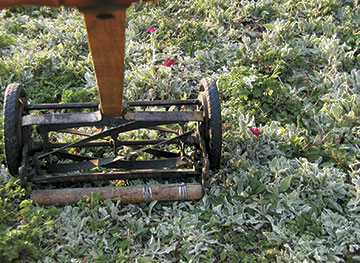 One of the neatest things about ground covers? A lot of them can really stand up to traffic! This isn't your granddaddy's lawn, with your stereotypical elderly person shouting at the neighborhood whippersnappers to get off his lawn! No way, my peeps. This is my lawn, with your stereotypical well-dressed doll shouting at the neighborhood whippersnappers to come on over! I have tea!