Welcome New Sisters! (click for current roster)
Merit Badge Awardees (click for latest awards)
My featured Merit Badge Awardee of the Week is … Sherrilyn Askew!!!
Sherrilyn Askew (Sherri, #1350) has received a certificate of achievement in Make it Easy for earning a Beginner Level Make It! Merit Badge!
"I obtained a used toolbox on wheels, cleaned it up, and stored my tools inside, making sure I labeled the drawers with the types of tools within.
I also made a planter out of cedar.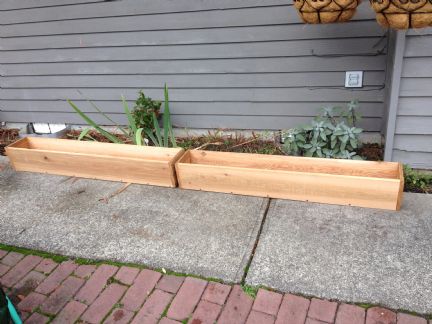 Having the tools on wheels is very handy, as projects are often done based on space available.
I also learned that cedar is a soft wood that will split if you put the screws in too deep, but the drill has speed settings. Once I slowed the drill down, things went much better. (Drilling holes first did not stop it from splitting.)
My daughter and I made the first one together, then I made the second one. I am going to line them both with plastic, then plant my garlic in them."