Welcome New Sisters! (click for current roster)
Merit Badge Awardees (click for latest awards)
My featured Merit Badge Awardee of the Week is … Nancy Boyd!!!
Nancy Boyd (#2508) has received a certificate of achievement in Stitching & Crafting for earning a Beginner Level Spinning Merit Badge!
"Ever since I was little and was in a couple 4-H groups growing up and spending time around the animal barns and fairgrounds, I remember seeing ladies spinning on their wheels in the sheep barns. My aunt and uncle had sheep when I was growing up, and that added to my fascination for wanting to learn to spin. Within the last three years, I joined the local Weaver's Guild in the Columbus, Ohio, area. In the last year, I have purchased around 8 sheep fleeces so I could learn to scour and card the fiber.
Then I used the fiber to work on learning to use both the drop spindle and wheel to spin up some yarn for me to use. I now have these 8 fleeces in plastic containers, and on one of them, I have been practicing doing my carding both by hand and drum. The fleece that I have carded has turned out gorgeous. Even my cousin who raised and showed sheep said it felt soft.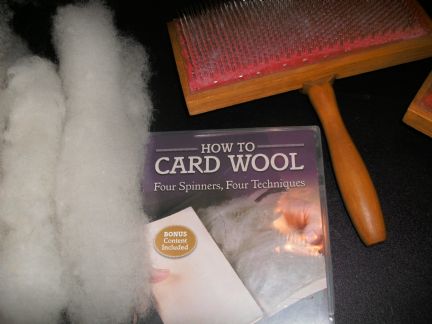 This past August (2014), I participated in the Sheep to Shawl demonstration at the Ohio State Fair, where I worked on carding fleece while other ladies worked on spinning and weaving items while there was a sheep shearing contest going on at the same time in the same ring. It was a lot of fun. One of the guild members helped me out to fine tune my approach to carding. This past week, I sat down and watched a DVD on Carding Wool that had four different individuals on it and how they carded wool. While watching the DVD, I carded some fiber, trying each of these individual methods to see which way I preferred to card.
The whole process turned out great. I did settle on one way to card some fiber. Watching the DVD and the help from one of our guild members has helped me improve on carding fibers. Now I just need to keep practicing and carding all this fine fiber that I purchased and scoured. I will save and use some for my dyeing badge, and spin some to use for my other spinning badges. I am so excited to finally learn a new craft that has been on my bucket list before it was called a bucket list."