The adorable, always humorous MBA Jane is my way of honoring our Sisterhood Merit Badge program, now with 6,399 dues-paying members who have earned an amazing number of merit badges so far—9,095 total! Take it away, MBA Jane!!! MJ 
Wondering who I am? I'm Merit Badge Awardee Jane (MBA Jane for short). In my
former life
…
For this week's Make It Easy/Candlemaking Intermediate Level Merit Badge, I was thrilled to put all my candlemaking know-how into action. I gathered my supplies and got to work to make two entirely different types and scents of candles to gift to two entirely different girlfriends. You don't have to gift them to girlfriends—I can attest to my own Mr. Wonderful loving a good Cracklin' Fire taper, or an Autumn Leaves pillar. Well, actually he requested a Bacon and Sausage scent, but … yeah. Haven't exactly found a meat-scented essential oil yet.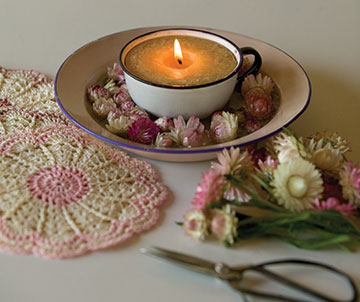 Lavender Soy Candle in a Teacup
Soy-based wax flakes (try to find a non-GMO brand)
Fresh-grown and handpicked lavender from your garden (Rosemary or basil would work just as well. Or mint. But maybe not chives or sage … unless you're gonna run with the whole sausage-inspired candle)
Chopsticks (one for mixing, one for holding up your hair)
Candle wicks
A pot for mixing and melting
Chipped teacups (with or without the saucers)
Slowly melt your wax. If you're like me even a little bit, put one pot atop another as a double boiler. This will keep your wax from burning when you get distracted by a phone call, a sandwich hankering, or a Downton Abbey marathon.
Use your chopstick to spread a bit of melted wax on the bottom of your wick. This works as adhesive to keep it held to the bottom of your teacup. It also works as an adhesive if you get some on your fingers and then tuck your wayward hair behind your ears. I told you to use the other chopstick, didn't I?
Add in your herbs and swirl in a loving manner. Pour carefully into teacups. Allow to cool. Give to girlfriend with much aplomb and the proper humility when she gushes over your cleverness.
*Other options: use Mason jars, juice glasses, salt cellars, baby bowls, coffee mugs, wine glasses, shot glasses, champagne flutes, spice jars, ramekins, or those wee little individual casserole dishes.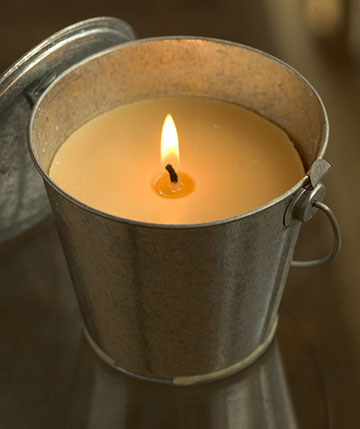 Coffee and Coconut Candle
3/4 lb filtered beeswax
1/2 cup organic coconut oil
Cotton wicks (beeswax burns hotter, so you want a thicker wick than you would use for the previous recipe)
Jars (This recipe will make about two 12-oz jars' worth, so plan on two large candles. You can totally make teeny ones and give your girlfriend a set of lights instead. Try a muffin tin! They're the perfect size for floating candles).
A double boiler or a pot-within-a-pot
Coffee beans
To make this type of candle, you will follow the directions above, only you won't make as many mistakes (ahem). Now beeswax is a little more temperamental, so you might want to use a candy thermometer and stop the melting procedure when it gets to about 160-164°F.
When your wicks are attached to the bottom of your jars or tins, stir in your coffee beans and add the whole concoction to your containers. Let set. If you'd like, you can add in some organic food coloring, but I liked the contrast of the white candle with the brown beans.
Mr. Wonderful says the coffee aroma is nearly as good as bacon. Honest.