Let's take a little mystery tour.
Bet you can't guess …
Where in the world?
The landscape looks a little sci-fi, doesn't it?
Like a movie set from Star Wars or, maybe, The Hobbit.
In this far-off place, we find fairy chimneys, like these:
We might also happen upon mighty mushroom-like towers
and intricately carved entrances in walls of stone …
… that lead to cave cubbies
and rather creepy clandestine quarters.
Can it be real?
Well, just ask this guy. He lives there.
Want another hint to help you pinpoint this peculiar place? Sample the locally grown dried fruit (I think I see dates) and nuts:
So, where in the world are we?
Answer: This strange land is called Cappadocia, a naturally wondrous and historically rich region in the Central Anatolian provinces of Turkey.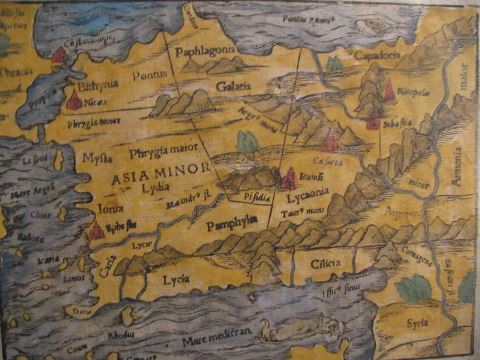 As it turns out, the seemingly fantastic formations that characterize Cappadocia can be explained in geologic terms. The "fairy chimneys" that poke up from the ground, suggesting a subterranean society of bizarre beings, are actually the remnants of ancient volcanoes. And the inhabitants of the region are as human as you and me. According to Wikipedia, "People of the villages at the heart of the Cappadocia Region carved out houses, churches, and monasteries from the soft rocks of volcanic deposits."
At the end of our journey, Cappadoccia may be a place as real as Pittsburgh, but I can't shake notions of magic and mysticism, can you?