Welcome New Sisters! (click for current roster)
Merit Badge Awardees (click for latest awards)
My featured Merit Badge Awardee of the Week is … Katie Wright!!!
Katie Wright (#5600) has received a certificate of achievement in Stitching & Crafting for earning an Expert Level Knitting Merit Badge!
"Hand-knit cardigan sweater, from a French pattern that I have had for years. I have made several of these and like having two for myself. Usually, I make them as gifts, such as this one is. It is in acrylic yarn so it can be washed easily. I do this when I make gifts, as the recipient may not know how to care for wool. Anyway, I have worked on this sweater piece by piece while doing other projects also. It takes a while to finish a sweater, and then piecing it together, doing finish work, and finishing loose ends all takes time. But it's worth it for such a lovely gift.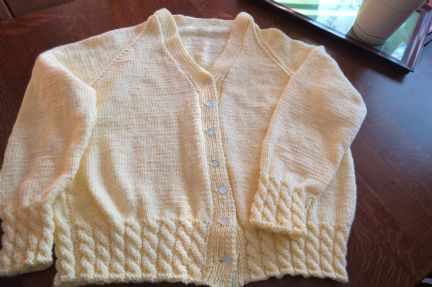 This sweater turned out well. Instead of ribbing (k,p) for edges of sweater bottom and sleeves, this sweater pattern uses cables, which I believe make the product look very elegant. I chose buttercup yellow, which is very soft, but put on some sparkly buttons to "jazz" it up a bit. After all, women do like "bling."