The adorable, always humorous MBA Jane is my way of honoring our Sisterhood Merit Badge program, now with 6,346 dues-paying members who have earned an amazing number of merit badges so far—9,010 total! Take it away, MBA Jane!!! MJ 
Wondering who I am? I'm Merit Badge Awardee Jane (MBA Jane for short). In my former life …   
For this week's Outpost/Speak for the Trees Beginner Level Merit Badge, I got a perfectly perfect excuse to visit my bestie at the Bureau of Land Management. Sometimes, she forgets we're besties, but I always remind her with a peppy hello (and a latte).
Being BFFs with a nature and wildlife guru is way cool, girls. I cannot recommend it highly enough, and I totally encourage you to take a latte over to your local BLM and test my theory. Sadly, Debbie was in a fish-naming meeting (very important, very hush-hush), so I left her coffee on her desk and took what I came for: a handy-dandy pamphlet on local trees.
Foliage. Saplings. Bushes. Greenery. Vegetation. Shrubs. From the itty to the Redwood, I was finally going to learn a little something about trees, and I was excited to further my Verdure Education, so to speak.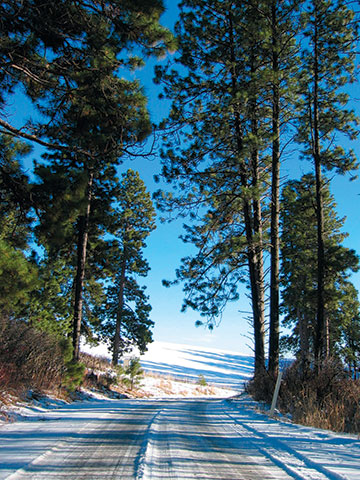 Since I'm a bit of a Visual/Kinetic Learner, I decided to combine my two requirements for this badge into one nice, long walk. See, I could have read my pamphlet at home and then go for my walk to identify the trees, but I have something of a short-term memory. Not to mention, my ADOS* can rear its head when I least expect it.
I didn't think my process through, obviously, since I spent half the time walking into the trees I was trying to identify as I studied, but no matter. Some people are tree huggers … I'm a tree collider.
Trees I found and can now identify proudly:
The Western White Pine (it's my state tree, peeps!)
The Ponderosa Pine (smells heavenly)
Balsam Pine (deep inhale)
Western Hemlock (a natural weather vane, as its needles and branches actually bend away from the wind)
Lodgepole Pine (makes me dream of log cabins)
There are so many more to classify and recognize, I knew it was going to take more than one short walk (and one hazelnut latte), so I made up my mind—ouch, there's another Balsam—to keep my BLM brochure at arm's reach whenever I'm hiking, camping, glamping, or just plain out in nature. Bein' one with the trees, farmgirls … I can see me now: pointing out the lesser-known varieties—like the Englemann Spruce, the Pacific Yew, or the Black Cottonwood—to my eager audience and fellow tree colliders … Yowch, my toe! Dabnabbit, that Quaking Aspen came out of nowhere!
Anyway, I earned my Beginner Level Badge, alright. I have the knowledge, the badge, and the stubbed toes to prove it. Totally worth it, gals.
*Attention Deficit – Oh, Shiny!