Welcome New Sisters! (click for current roster)
Merit Badge Awardees (click for latest awards)
My featured Merit Badge Awardee of the Week is … Jill Schrader!!!
Jill Schrader (OneCountryChick, #6177) has received a certificate of achievement in Each Other for earning an Intermediate & Expert Level Entrepreneurial Spirit Merit Badge!
"Well, I was finally on my way. I had mapped out a business plan, researched suppliers, pricing, and a business name. I was now Country Kitchen Linens! Now I had to become that business. So I applied for a business name through the state, got a Seller's Permit, and got all the legal ins and out taken care of. Next, I set up an online account to sell my kitchen linens through Etsy. Then, finally, came the fun part. Shopping for supplies and fabrics and making a few products so I could take photos for my listings. Once I had a few sets created, I put them on my shop site. Now, the excitement and butterflies really began. I was officially open for business!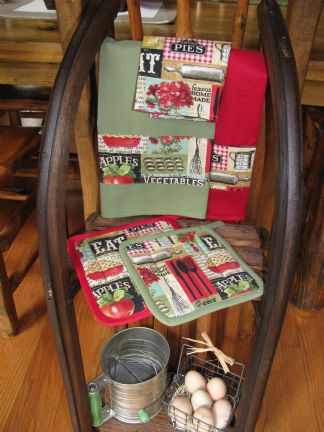 My goal was to open the first part of November to take advantage of Christmas sales. I opened November 1. I continued making new items and selecting prints I thought other farm sisters would enjoy and could relate to. The orders started trickling in. I contacted MJF and was selected to be part of Project F.A.R.M. giveaway for January! That gave me some more exposure and fun items for other sisters to purchase for others on their Christmas list. Thank you, MJF, for that opportunity!
For my Expert badge, My Country Kitchen Linens shop is now officially open for business! My web page was built, business cards/labels were created, and orders started to come in. It was a busy time, as the Christmas season was just starting as well. Baking and shopping were in full swing, and as a seamstress, I love making clothes for the little grandkids as well as creating new listings for the shop that needed to be expanded. The more trips to the fabric store, the more prints I saw that I just had to add to my shop. Oh, the fun I was having!!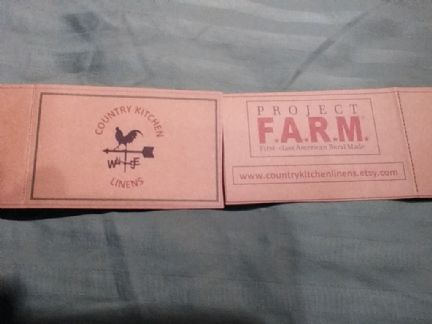 Getting my name out there was the hardest thing. Without an actual "brick and mortar" building that people can see, an online store is a bit trickier, but at the same time, you can set up shop all over the world on one site. I continue to expand my listings, grow my business and get the word out. I am so grateful to MJF for promoting my shop and welcoming me into the "sisterhood"! I love seeing what others are making and hope to purchase some of their wares in the near future as we support each other and our country way of life."