The adorable, always humorous MBA Jane is my way of honoring our Sisterhood Merit Badge program, now with 6,399 dues-paying members who have earned an amazing number of merit badges so far—9,095 total! Take it away, MBA Jane!!! MJ 
Wondering who I am? I'm Merit Badge Awardee Jane (MBA Jane for short). In my former life …
For this week's Make it Easy/In the Garden Beginner Level Merit Badge, I went shopping.
Outside.
In my yard.
And maybe in my neighbor's yard.
And by yard, I mean trash.
Ahem. Hey, now, before you get all judge-y on me, farmgirls, (no, I am not advocating a Freegan Badge) remember this little nugget of truth: A penny saved is a penny salvaged. Or is it: A bird in the bush is worth two in the garden?
Well, no matter. Whatever your personal mantra and creed is, your own yard (and your friendly neighbor's) is an excellent place to find all sorts of treasures to recycle/upcycle/DIY. Golly, I could probably have my own reality television show at this point. And an action figure.
Wait. I AM an action figure.
Well, anyway. Back to the show. My goal was this: Make a garden trellis out of material I could salvage/find/discover.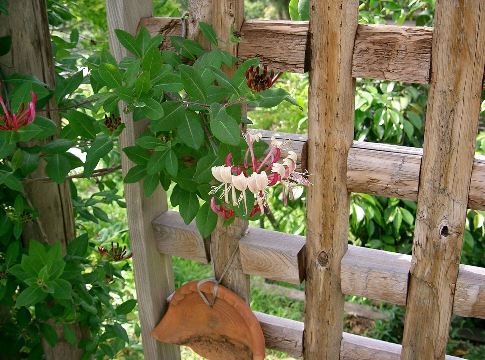 Don't get all overwhelmed on me, chiclets—this was going to be easy-peasy. (In fact, a pea or bean teepee was next on my list, to boot.) I had so many ideas, my head was swimming with them. You can make a trellis out of nearly anything …
Old doors
Pallets
Fencing
Bamboo (bonus points if this is actually growing in your garden; talk about double-duty)
Antique headboard (so French chic)
Old windows, with or without the glass
Wire (mesh or cable)
Chicken wire
Saplings and vines
Lattice
PVC piping
Antique mattress frame (the wire part, not the fabric part)
Bicycle
Bicycle or wagon tires (screwed into a post vertically)
Old screen door
Anything, really!
And now that you have a fabulous, unique, one-of-a-kind garden trellis, what to do with it? Well, you came to the right place, doll. Here are a few creepers (and by that, I do not mean a shady-looking character … I mean some climbing plants) and crawlers that adore trellises almost as much as you do:
Flowering Jasmine
Black-eyed Susan
Snap Peas
Beans
Roses
Honeysuckle
Morning Glory
Hyacinth Bean Vines
Cucumbers or Zucchinis
Twisting Snapdragons
Climbing Nasturtium
Raspberries or Blackberries
Clematis
Passion Flowers
Petunias
Canary Creepers
Decorative Gourds
Hydrangeas
Squashes and Melons
Glory Lily Bulbs
Wisteria
Sunflowers
And did you know these fun facts about growing veggies on a trellis, as opposed to on the garden floor? The fruit and veg will be cleaner, better-shaped, take up less space, will be less discolored (no resting on the ground), easier to water, and easier to harvest.
And this most important reason of all:
It's totes adorbs!
Try a trellis today. Don't go shopping for supplies, just use your imagination. Then get planting. You'll have the cutest, most functional garden on the block (of course, your neighbors might want their stuff back … let 'em share in the bounty instead). Happy DIY-ing, peeps.