The adorable, always humorous MBA Jane is my way of honoring our Sisterhood Merit Badge program, now with 6,629 dues-paying members who have earned an amazing number of merit badges so far—9,365 total! Take it away, MBA Jane!!! MJ 
Wondering who I am? I'm Merit Badge Awardee Jane (MBA Jane for short). In my former life …   
For this week's Get 'er Done Expert Level Merit Badge, I was already sore and in the swing of things from helping my farmgirl friend move houses (and thereby earning my Intermediate Level Badge), so I decided to go with the flow and earn my Expert Level Merit Badge next. A house built by Habitat for Humanity was going up right down the street from me, and it was just the thing.
Twelve hours required for this badge, and I was rip roarin' ready to go.
It took a while to prepare. I mean, I couldn't just show up with a hammer and call it good. No, siree! They would know I was a novice. I knew exactly what to do: after all, I have watched Seven Brides for Seven Brothers often enough.
I knew how to raise a barn—how could building a house be any different?
I made several pies (rhubarb, raisin and sour cream, egg custard, and good old-fashioned apple), ironed my best country dancing dress, practiced my DoSeDo Flutterwheel Reverse Square dance moves, and headed out.
I would have hitched the horses up to the buggy and arrived that way, all proper style and all, but I don't have a horse.
Or a buggy.
I plan to remedy that eventually, though. They're on my grocery list, right before buckwheat flour and right after tropical fish food.
Anyway, I was surprised and kind of disappointed that none of the other volunteers were as prepared as me. It's a good thing I brought so many pies, because evidently all the others forgot. At least I'll win the blue ribbon, so all was not lost.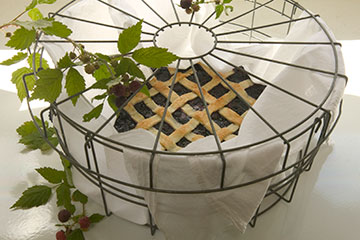 They also seemed a little under-dressed for the occasion, but I let that one slide.
They also were a shy bunch. Why, it took me at least an hour to get a dance going! Part of that time was trying to roll the nearest felled tree over to the dancing area, though. That was tough. But I made it, and when everyone quit staring (they really weren't the most self-motivated group, I gotta say), I demonstrated a little quickstep atop it. Of course, I knew my limits and I didn't do any backflips or add in any ax swings at the same time, but I must say, I have feet like lightening!
After that, I kind of expected a fight to break out over which girls wanted to marry which guys, but the volunteers were sort of a focused bunch, and instead we put up some walls.
I guess walls are good, too.
I kept my eyes out for a batch of good-looking, single brothers (you know … for my single, good-looking girlfriends, of course) but no one seemed related. Or single. Or good looking.
All in all, I had a nice time and earned my badge, but the whole experience was a little strange.
It's almost like people don't know how to properly do these things. They did appreciate my pies, though.