The adorable, always humorous MBA Jane is my way of honoring our Sisterhood Merit Badge program, now with 6,571 dues-paying members who have earned an amazing number of merit badges so far—9,327 total! Take it away, MBA Jane!!! MJ 
Wondering who I am? I'm Merit Badge Awardee Jane (MBA Jane for short). In my former life …   
For this week's Farm Kitchen/Know Your Food Intermediate Level Merit Badge, I cultivated a few of my favorite recipes, revamped them so they'd be completely organic, and then packed all the ingredients up in my charming (if I do say so myself) reusable and homemade shopping bags. Why, you may ask? To take to my friend's home and to make them dinner with, of course.
We farmgirls are a gregarious and generous bunch.
I was a bit nervous, to tell the truth. These particular friends were dyed-in-the-wool processed-food eaters. In fact, I am loath to call what they eat food. It's more like … well, more like a deadly concoction of preservatives, MSG, food colorings, additives, and high-fructose corn syrup.
Speaking of HFCS, my little chickadees, part of earning my Intermediate Level Merit Badge was to completely and utterly eliminate that particular substance. I thought it'd be simple. Easy peasy, lemon squeasy.
I was wrong.
Talk about insidious. That ingredient creeps and crawls its way into our foods in areas you'd never imagine. If HFCS was a spy, we'd be in trouble. It can slip into your house undetected. It can wriggle its way into your coffee-stand mocha, slip into your salad dressing, find new life in a bag of snack-time potato chips, and even be in the children's neighborhood lemonade stand. Seriously, this stuff is the Jason Bourne of syrups. (Although Matt Damon is much more attractive).
Anyway, once I started paying uber-attention, I was shocked and alarmed. I realized my days of buying nearly anything pre-made had come to a sudden halt.
Unless my cookie craving could be satiated with something homemade, I was concerned I would never be able to enter a bakery again. I mourned.
Unless my local and favorite lunch buffet could revamp their menu, I was going to have to fulfill my cravings for enchiladas and lobster bake all by myself. I weeped.
Unless I could figure out the magical list of ingredients for my weekly Hazelnut White Chocolate Pecan Caramel Mocha with Whip and Sprinkles, I was gonna have to quit cold turkey. I gnashed my teeth.
But enough about me. Back to my friends and my bags o' groceries.
I had to bring every single ingredient: we're talking salt and pepper and olive oil and everything. I just couldn't trust their pantry with my beloved and high-quality food items, and besides, I wanted to show them just how good organic and local and homemade could be without the slightest bit of cheating.
First, I had to remove about five billion dishes out of their oven. Turns out, they don't use their oven.
Like, ever.
It's for storage.
I found this odd, strange, and somewhat distressing, but I soldiered on. Next, I had them taste-test my homegrown tomatoes, which they were somewhat loathe to do. I didn't blame them: I used to hate tomatoes. Those pink, mealy, gross things I found on my hamburgers or thrown haphazardly into my salad? Nasty. But my bright red (or sometimes purple or orange) 'maters from my garden? A treat that would transform any skeptic.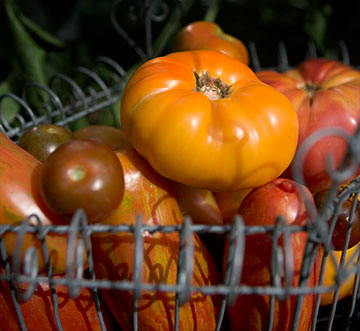 All my friends agreed they had never tasted anything like my heirloom variety, and in moments, I had none left for my garnish. No matter, it was mission accomplished already!
Stay tuned for how the rest of my experiment and badge earning went next time …