Did you collect Breyer horses as a youngster?
Maybe you still do? (I purchased some Breyer cows on eBay for my grandgirls.)
Either way, you're in the company of thousands of collectors worldwide who absolutely adore these lifelike lovelies and their marvelous miniature accessories—saddles, stables, and grooming implements galore.
What you may not know, though, is that model-horse enthusiasts make a pilgrimage each July to the Kentucky Horse Park in Lexington for—oh, yes—the Breyerfest Horse Fair and Model Horse Festival.
Fans flock to the park for "three fabulous days of horse play" in which the model horse hobby meets the real horses that inspire it.
"BreyerFest is Breyer's annual flagship event with tons of fun for horse lovers of all ages! The weekend celebration is the intersection of the real horse world and the model horse hobby with spectacular equine entertainment, the largest model horse shows in the country, the horses that inspired our models, and thousands of families and fans for three fabulous days of horse play. A truly unique experience, BreyerFest offers workshops, free seminars, and many Hands-On-Hobby demos that bring together all areas of the model horse world," explains Breyer Animal Creations. "And don't forget about the endless shopping in The Marketplace, the Artisans' Gallery, and the Swap Meet! BreyerFest is the perfect family festival. Spend the day meeting horses, taking pony rides, painting your very own model, and more."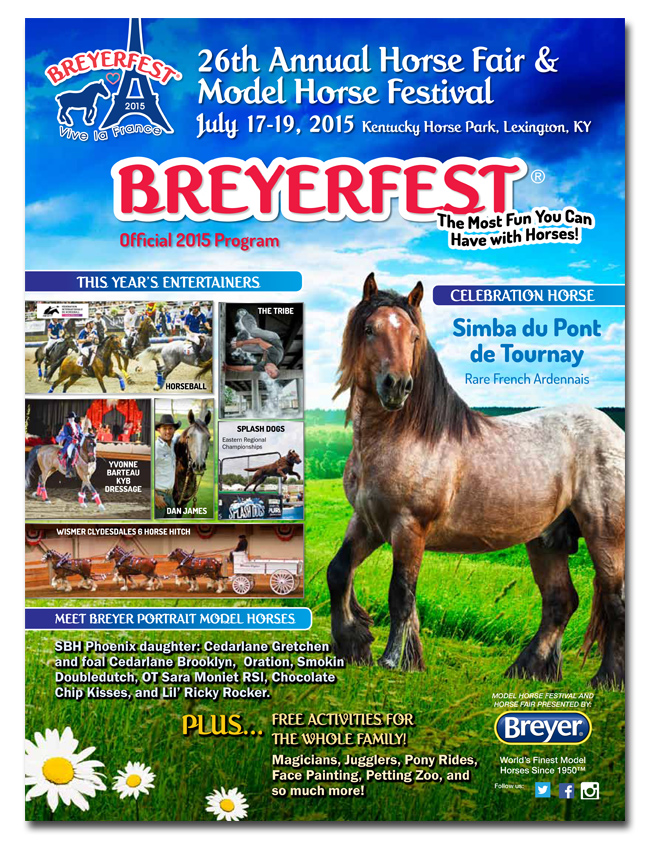 This year, the theme of Breyerfest is "Vive la France!", which was inspired by a rare French breed of horse called the Ardennes.
"Each year, we select a very special guest to be our Celebration Horse, much like a homecoming king or queen. This year, BreyerFest guests will meet a rare French breed, including our Celebration Horse, Simba du Pont de Tournay. He is one of only 15 known full-blooded Ardennes Horses in the United States," boasts Breyer.
Here's a glimpse of the guest of honor in action:
Magnifique, non
?
If you're bustin' your britches to get to Breyerfiest this year, it will be held from July 17 to 19, so saddle up and set off for Lexington, or learn more here.