Welcome New Sisters! (click for current roster)
Merit Badge Awardees (click for latest awards)
My featured Merit Badge Awardee of the Week is … Jennifer Follestad!!!
Jennifer Follestad (#6468) has received a certificate of achievement in Make it Easy for earning a Beginner Level In the Garden Merit Badge!
"I used saplings we had to cut down from under our power lines and bamboo that I had on hand and twine to build the trellis. I shoved some longer and thicker sapling trunks into the ground and used the bamboo as cross beams and then wove twine through out the trellis. For the bean teepees, I used more bamboo and twine.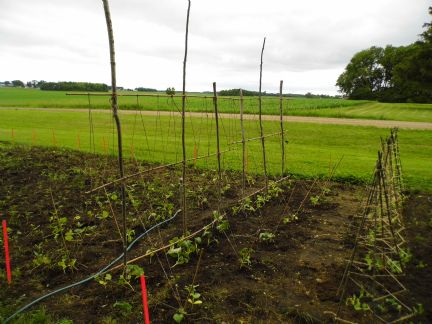 I think it turned out pretty well. All structures are sturdy and stable. The trellis will be used for cucumbers, and since I usually grow bush beans, I'm using the bean teepees for peas to climb on."