Welcome New Sisters! (click for current roster)
Merit Badge Awardees (click for latest awards)
My featured Merit Badge Awardee of the Week is … Jill Schrader!!!
Jill Schrader (#6177) has received a certificate of achievement in Outpost for earning a Beginner Level Speak for the Trees Merit Badge!
"Since I live in the woods, out of town, this was an obvious merit badge to earn. I have always loved identifying trees, as well as native wildflowers, mammals, birds, and insects. I'm always pulling out my reference books when I see something past my window that I can't identify.
I take my books with me whenever we go camping and keep them handy at my coffee table. My relatives know I'm the go-to person to ask if it comes to a nature question. I about have my field guides memorized by picture. If I don't know the answer, we look it up together and find the answer!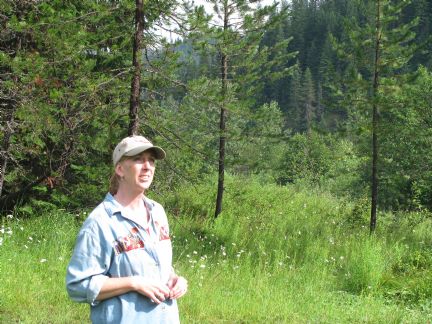 I have Western Red Cedar, Western Larch, Douglas Fir, Quaking Aspen, Lodgepole Pine, White Pine, and Hemlock growing on my property. I love to study nature and am always learning and love to share this information with others as they show an interest in the great outdoors!
I was able to identify most, if not all, the trees growing around me. My uncle was a logger, so he has taught me the common names, as well as some of the "slang" names, which often go by color, such as a Ponderosa Pine is also known as a yellow pine, a Douglas Fir is also known as a red fir. I have enjoyed being able to identify trees whether I'm here at home, or traveling and see something different."