Welcome New Sisters! (click for current roster)
Merit Badge Awardees (click for latest awards)
My featured Merit Badge Awardee of the Week is … CJ Armstrong!!!
CJ Armstrong (#665) has received a certificate of achievement in Stitching & Crafting for earning an Expert Level Origami Merit Badge!
"Folding paper into tiny little articles of clothing is one of my favorite origami projects. I call these clothes "Tiny Togs" and have used them to make cards, wall hangings, tags and journals. There are several variations on folding for a blouse or shirt. You can add a tie or vest to a shirt for a masculine look. There is the A-line skirt and the pleated skirt, shorts, pants and little purses. Some of the folding is intricate to get the tapers and tucks just right. And, of course, your own imagination can take you beyond what the instruction pages, if you have them, tell you. Buttons, ribbons, and other embellishments can be added as well.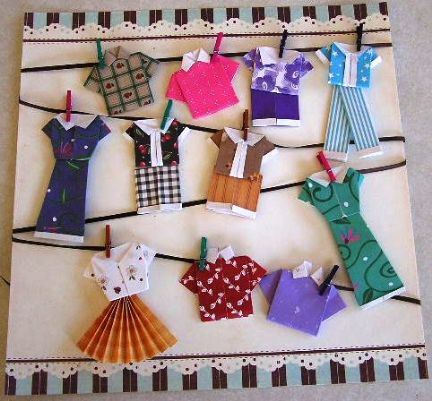 I've chosen this project for the expert level because it is my favorite and these "Tiny Togs" are still things I use in my papercrafting projects. It has taken approximately 3 hours to complete this project. This project, when framed, will be a great wall hanging for my sewing room or my craft room. I'll be making more "Tiny Togs" in the future as they are so adorable and fun!"