Welcome New Sisters! (click for current roster)
Merit Badge Awardees (click for latest awards)
My featured Merit Badge Awardee of the Week is … Emily Race!!!
Emily Race (Simply Satisfied, #3591) has received a certificate of achievement in Outpost for earning a Beginner, Intermediate & Expert Level Speak for the Trees Merit Badge!
"This summer we did all these badges while at home or camping. Our family went to Glacier National Park and used a tree guide to identify trees around the campground as part of my daughters earning their junior ranger badges. We identified both deciduous and coniferous trees. That got us thinking so we came home and went through our yard. We planted all our trees so my husband and I knew what they were but we worked through the guide with the girls. We have blue spruce, a red maple, weeping willows, and Ponderosa pines. The red maple and the willow aren't native but the others are.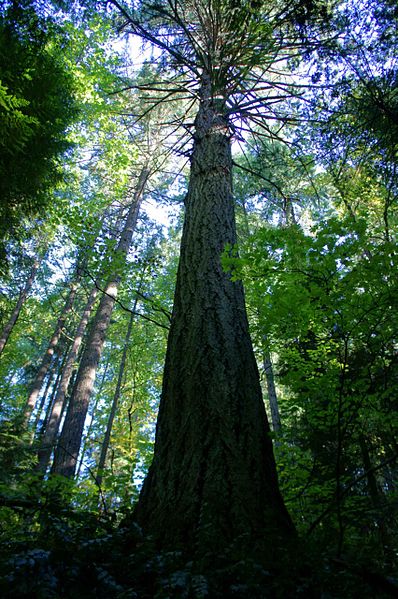 Photo via Wikimedia Commons
At our nearby park we found more maples and a few spruce trees. There were some Douglas fir as well. The Douglas firs and Ponderosas are native. All over our area we have windbreak rows of trees. We also have them for snow breaks to help keep snow from drifting onto the roads. This last week we went Christmas tree hunting in the woods. We found Douglas fir, Spruce, and Grand Firs to pick from. When looking for the perfect tree we found many growing too close to each other making them not grow branches between their neighbors. We also some little trees struggling to grow underneath their much larger neighbors. In Montana we don't have a lot of undergrowth vegetation but there were a few willows trying to survive in the area between the bushier firs and down closer to the creek. With all the snow on the ground we didn't find any garbage but we are always in the habit of picking up other people's trash while hiking and camping.
We had so much fun identifying trees with the girls. I always love sneaking in education where ever we are. It is funny how solving a puzzle of what tree we are looking at can really be a fun thing for the family. I also smile every time my girls pick up trash from someone else or from their own pocket if it falls out. We have two beautiful daughters that respect our environment and love to be in it and learning about it."