Welcome New Sisters! (click for current roster)
Merit Badge Awardees (click for latest awards)
My featured Merit Badge Awardee of the Week is … Emily Moore!!!
Emily Moore (E-Moore, #6770) has received a certificate of achievement in Each Other for earning a Beginner Level Little Squirts Merit Badge!
"On my first official day of Christmas break, I wanted to start it off right—to earn my first Sisterhood Merit Badge!
I started my day around the house armed with a can of WD-40. I sprayed all the hinges and doors that squeaked. I researched online how to winterize garden tools, and when it warmed up a little, I headed outside to grab all my garden tools from under the house. I scraped off all the dirt and rust with steel wool, put vegetable oil on all metal parts and linseed oil on wooden handles. We don't own any bikes, so I headed to the barn, grabbed our grease gun, and got to work. I greased all the grease fittings on the bush hog, manure spreader, and hay rake.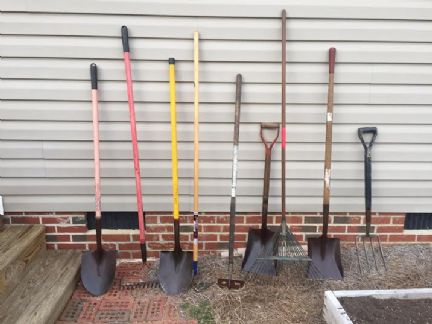 This was the first time I had ever taken the time to winterize my garden tools and I am really happy with the results! I look forward to making this a yearly thing. My grandma gave us a pointed hoe for our wedding, and I would like to keep it in good condition for the rest of my life—now I know how to do it."