Welcome New Sisters! (click for current roster)
Merit Badge Awardees (click for latest awards)
My featured Merit Badge Awardee of the Week is … Amy Cloud Chambers!!!
Amy Cloud Chambers (Song sparrow, #6098) has received a certificate of achievement in Stitching & Crafting for earning a Beginner & Intermediate Level Knitting Merit Badge!
"My mother taught me to knit many years ago, but I never really tried to finish anything (music took first place in my interests). But now I have grown very interested and wish I had paid more attention. I started with a simple garter-stitch scarf in stripes, using up yarn from Mom's stash. I had in mind a dear lady from the nursing home, which would also help motivate me to working on another badge. It took hours to complete (way beyond the three-hour requirement). But in actuality, this project propelled me into a love of handiwork long forgotten since my childhood. And although I finished it after some more advanced projects that I tackled for Christmas presents, it was a project of the heart for two reasons. 1) Because of the person for whom it was made, who I will tell more about in another badge application; and 2) Because it brought handiwork back into my life after years of being busy with other things. This simple project became a source of great joy!
I think it turned out very well, and certainly, I have received very kind compliments from my Henhouse and Farmgirl Connection forum sisters. They seem to really like the colors, and I like the long fringe. It's kind of glamorous for my dear friend, who will receive it as part of a Valentine's package of goodies.
After I tackled the project for my Beginner badge, I enjoyed it so much that I decided to knit Christmas gifts for family and friends. I chose more advanced projects that would allow me to experiment with new stitch techniques and fibers. The results were mostly very lovely and I learned so very much about about the art and craft of knitting. I knitted two sets of scarves and arm warmers for my very cosmopolitan brother and sister-in-law, who are always on their iPhones. For these projects, I learned to use a circular needle, knit cables, and work with mohair- and alpaca-blend yarns. For my mother, I made a lap afghan, which introduced me to so many new stitches and techniques that I started and ripped it out eight times before I got the hang of it! Pictures of these projects are included. I also made my poor daughter what may be the ugliest sweater vest ever created, which taught me a valuable lesson about making yarn substitutes. The cats received knitted catnip fish, which taught me to knit with double-pointed needles. I even knitted a basket out of jute twine to hold the various food jars for my granddaughter's hermit crabs, a most unusual project.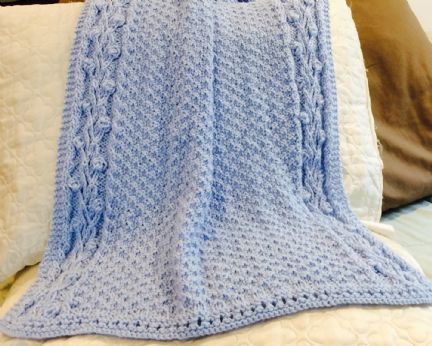 All of the gifts were well received, even my dear daughter's ugly sweater, which gave us all a laugh. The cats have torn their gifts to shreds, but I can't really tell if the hermit crabs like their basket."