The adorable, always humorous MBA Jane is my way of honoring our Sisterhood Merit Badge program, now with 7,050 dues-paying members who have earned an amazing number of merit badges so far—10,044 total! Take it away, MBA Jane!!! ~MaryJane 
Wondering who I am? I'm Merit Badge Awardee Jane (MBA Jane for short). In my former life …
For this week's Out There Kids/Lean On Me Beginner Level Young Cultivator Merit Badge, the lovely Piper and Nora and the intrepid whippersnapper, Andy, all decided they need a place in the shade. A little piece of heaven they could call their own …
"Can I have a piece of Earth?"
– Mary, The Secret Garden.
I had just the thing:
A lean-to.
Not too hard to make (and the more rustic, the better—so really, we were all all about this badge), and provides endless fun. Not to mention, shade. It's getting hotter than a June bride over here! Ahem.
There are plenty of ways to design your own lean-to, and here are just a few to get your own creative juices flowing:
Rustic backyard lean-to made with sturdy stick poles (you'll need seven if you follow the ever-so helpful instructions on p. 74 of MaryJane's Outpost book).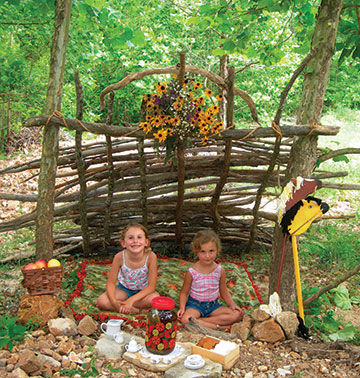 Indoor lean-to, made with furniture and blankets (otherwise known as a fort).
Large tarp attached to your backyard fence.
Make a teepee out of large sticks tied at the top. You can drape with blankets for shade, or leave plain. Or plant a climbing vine like sugar snap peas!
Pop a tent (okay … not the most DIY, unless you have a really old version like I do, with mismatched poles, lost pegs, and a hole in the top).
Tree house (okay, not exactly a lean-to per se, but if you built things the way I do, it'll lean. Totally counts!).
Use leftover awnings or shutters and help your child attach them to an outdoor wall of your house or garage. Voila! A hiding place that's perfect for a book and a snack.
Really, the possibilities are just about endless. We went with the good, old-fashioned stick lean-to. After all, Rustic is my middle name.
Instructions for building your backyard lean-to:
Find two trees that are 6-8' apart, and lash one sturdy pole between them horizontally. Wrap your twine around the tree and pole ends several times and tie securely.
Lean the rest of the poles against the cross pole at about a sixty degree angle and about a foot apart.
Wrap a length of twine around each pole, securing it to the cross pole, and tie off.
Pile branches on top of your poles, from the ground up, to create your roof. Lash them to the vertical poles. Keep piling and lashing until you reach the top. Fill holes with leaves and branches and grass, or keep some open for "windows."
You can add more branches to the front or sides for a more secret hideaway.
Decorate! Use flowers, flags, signs, paints, antlers, garlands, solar lights or twinkle Christmas lights—anything that floats your boat!