Welcome New Sisters! (click for current roster)
Merit Badge Awardees (click for latest awards)
My featured Merit Badge Awardee of the Week is … Debbie Klann!!!
Debbie Klann (#770) has received a certificate of achievement in Stitching & Crafting for earning a Beginner, Intermediate & Expert Level Knitting Merit Badge!
"I have been knitting since I was in grade school. I found this cute wrap scarf and some beautiful, silky yarn with beads and thought they would make a good pairing.
I worked on this on a 2-day trip with my husband to get some seed for the farm. It was an easy pattern to do and went quickly. It was nice to bring home a finished project.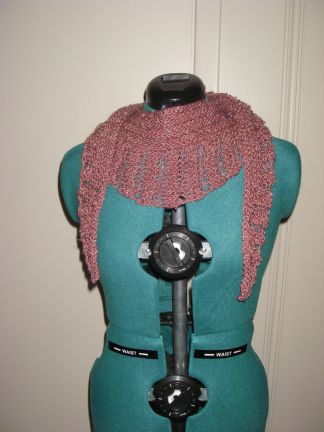 My daughter found this Hunger Games-inspired cowl on Pinterest and asked if I would make it for her for Christmas. I had to research to find the right yarn … I ended up with some super-chunky baby alpaca … SO soft and warm! It was made on size 35 needles. I had to learn to do the herringbone stitch to make this. It was super-easy once I got going and I love how the stitch looks.
I was pleased with how it turned out, and so was my daughter! She wears it to work on really cold days and stays perfectly warm.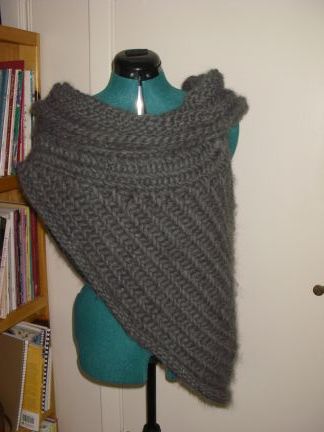 This shawl almost made me lose my mind a few times … but I learned SO much! I had to learn a new way of casting on so that I could later add the lace edging. When a pattern tells you to use a contrast yarn to do so … DO IT!!! I did not! There was no way to see the cast-on chain, so I ended up unravelling the shawl and reknitting that part. The lace edging was knitted separately and added on with a 3-needle bind-off … another new technique.
It took a lot to finally finish this, but I am so happy that I did. I love how it turned out. I know that it took at least 50 hours from start to finish. In my years of knitting, I have spent many hours knitting with my mom and friends, and have taught at least five other people how to knit. I think with knitting, you are always learning and you are always teaching each other. That's one of the things that I love about it. And the relaxing click, click of my needles at the end of the day!"