Welcome New Sisters! (click for current roster)
Merit Badge Awardees (click for latest awards)
My featured Merit Badge Awardee of the Week is … Debbie Klann!!!
Debbie Klann (#770) has received a certificate of achievement in Stitching & Crafting for earning a Beginner and Intermediate Level UFOs Merit Badge!
"Making a list of my UFOs was enlightening … and a little shocking! I am one of those that LOVE the excitement of starting a new project … but there's that in-between time of starting and finishing when I can get bored.
I made a list of all of my started projects by category. I have them all separated with all of the supplies I need for each one.
I had been planning on working on just what I had at home as a New Year's resolution this year, but I was so excited when finishing your UFOs was made into a new merit badge shortly after the beginning of the new year. I have gotten into a routine of working on projects during the day if I have free time or in the evenings. I have made it a personal challenge to not buy or start any new projects. It's now become as exciting to FINISH a project as to START … and such a satisfying feeling to keep crossing projects off of that list!
Here is a photo of a small tabletop-size quilt that I finished right away. I won't tell you how long it's been waiting to be finished!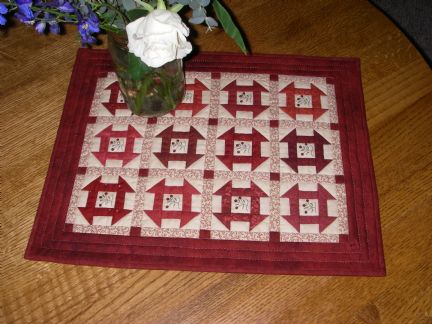 In making my UFO list and going through each project, I did decide that I didn't have an attachment to some of the projects anymore. Those I donated. This left me with what I had to finish for my Intermediate badge.
I had this quilt top that I knew needed something special to really make it stand out. I sent it to my quilting friend to finish on her long arm.
I also had an applique quilt that needed the quilting finished … I had put it off and put it off … now was the time to just get it done!
Eva Marie did a beautiful job, just like I knew she would. I was so pleased with her work!
I cannot believe that the pink quilt is FINALLY done! I had posted pictures of both quilts on the chatroom thread for UFOs. I said that after so long, when that final stitch was complete, I felt like one of my children had left home! It feels so great to have it done!"