Welcome New Sisters! (click for current roster)
Merit Badge Awardees (click for latest awards)
My featured Merit Badge Awardee of the Week is … Rebecca White!!!
Rebecca White (Beccalou, #6430) has received a certificate of achievement in Stitching & Crafting for earning a Beginner, Intermediate & Expert Level Quilling Merit Badge!
"I have always admired quilled projects and decided that I should learn this wonderful art form. I purchased a beginner kit from one of the craft stores and started working. Buy the time I had finished, I had two books and more kits on order.
I made several cards and gift tags that I really love. Some of my fellow sisters in the card swap may be seeing them soon.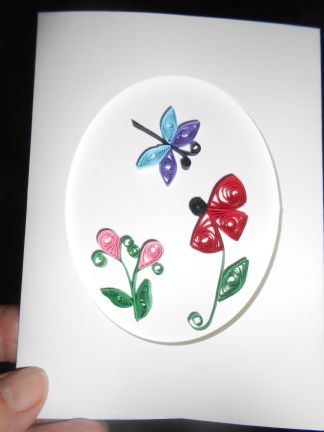 I saw a certain photo of something on Facebook and I thought that it would be neat to do with quilled flowers. I painted the canvas with different colors of gold and copper and then drew on the silhouette with dark paint. I then quilled the flowers and added it to the canvas.
I really loved how it turned out. I have it hanging in the studio/barn where I do most of my craft work. The flowers add a bit of definition to the hair, and the hair itself is quilled.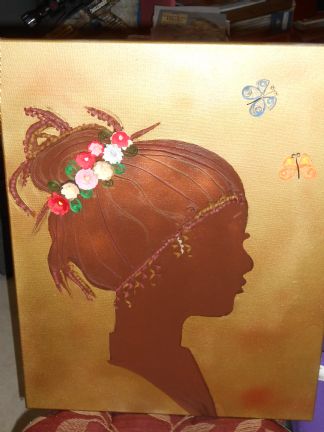 I decided that I really wanted something that showed lots of flowers and needed something for my studio to put up that would make me happy. So I designed a plaque. I took a wooden 10/10 board and covered it with scrapbook paper, and then printed the word BLOOM on it, then I decorated it with all the different kinds of flowers that I could think to make.
I think that it turned out better then I expected. It is very cheery and I love the bright colors of the flowers."