Welcome New Sisters! (click for current roster)
Merit Badge Awardees (click for latest awards)
My featured Merit Badge Awardee of the Week is … Cyrie Wilson!!!
Cyrie Wilson (Pixiedustdevil , #6941) has received a certificate of achievement in Stitching & Crafting for earning a Beginner Level Aprons Merit Badge!
"I made a half-apron, using mint green fabric with strawberries on it. It's trimmed with red fabric with white polka dots. I didn't have a pattern, so I made it up. I didn't like the first apron, so I seam-ripped the whole thing and started over. It needed longer ties and more fabric on the sides so it would be ruffly.
You can't see it, but the back ties are made with the red polka dot fabric.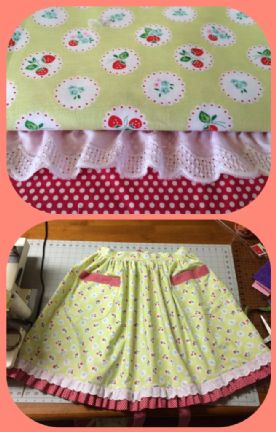 It turned out fine the 2nd time around. Ripping out all of the seams might have seemed crazy, but why have an apron that you don't like?"