Welcome New Sisters! (click for current roster)
Merit Badge Awardees (click for latest awards)
My featured Merit Badge Awardee of the Week is … Hadassah Schaap!
Hadassah Schaap (Mentoring Sister Heidi Schaap, #3752) has received a certificate of achievement in Garden Gate for earning a Beginner Level Birds Merit Badge!
"I researched birds in our area, and located several on our Provident Woods Farm. I made a "future birds to look for" list and found several! I have a book of birds, and a bird journal which I keep bird sightings and nests that I find around our house. We live on a foresty rural farm, so we get a lot of birds around these parts. It's always so fun to see new baby birds and crazy breeds we have never seen before, such as the Scarlett Tanager or Blue Birds.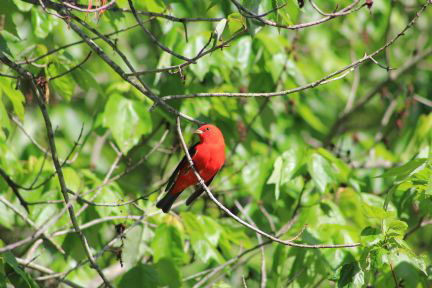 Later in the year, I put up a bird house that we had built years before (but never got around to it) and set that out for the Blue Jays, Chickadees, Goldfinches, Robins, and Finches.
I also went on a bird expedition with my camera and got several good pictures, including one of a BRIGHT RED Scarlett Tanager! 🙂
I learned a lot."