Welcome New Sisters! (click for current roster)
Merit Badge Awardees (click for latest awards)
My featured Merit Badge Awardee of the Week is … Sherrilyn Askew!
Sherrilyn Askew (Sherri, #1350) has received a certificate of achievement in Stitching & Crafting for earning an Intermediate Level Mosaics Merit Badge!
"I made a larger mosaic piece (larger than the last one). I am making a series of stepping stones that are being installed in our hummingbird garden (currently under construction). My daughter is helping me by making a few stones as well. We need them as paths to get to the spigot which is in the garden, and to be able to get at the weeds in the beds. It's a pretty big garden.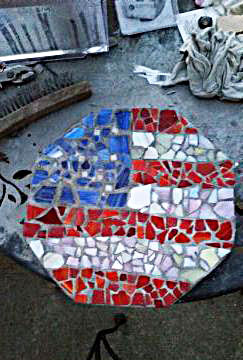 The first one I made, my partner "helped" me with, so I had to take a wire brush to it when it dried to get the concrete off of the tiles. The second one, I lectured him about leaving it alone and letting me do it, so I only had to brush the edges to soften the concrete corners a bit. Since I made it on the 4th of July, that is its theme. My daughter and her friend made stones that day as well. I love the way they all turned out."