Welcome New Sisters! (click for current roster)
Merit Badge Awardees (click for latest awards)
My featured Merit Badge Awardee of the Week is … Katie Reichenbach!
Katie Reichenbach (farmgirl68, #7422) has received a certificate of achievement in Make It Easy for earning a Beginner Level Collect It! Merit Badge!
"I did my beginner level of Collect It! on my first Boyds Bear – Eli Q. Spangler. Here is what I found …
Boyds Bears
Where was Eli Q. Spangler produced?
Eli Q. is part of the "High Fashion Society." He wears a sweater with an Americana heart stitched on the front and has a star stitched on his right paw. He is also a part of "The Head Bear Collection. This means he is hand-stitched and fully jointed (arms and legs move). I don't remember how much I paid for it (I know it was more than I should have been spending at the time on a stuffed animal), but today's MSRP is $36.99. He was introduced in 2005, which is about the time I got him.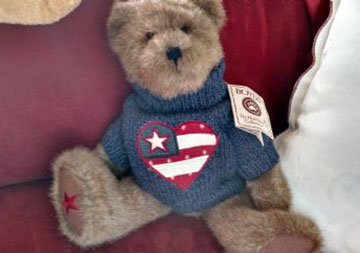 What is unique about the Boyd's Bear production process?
Boyds stuffed bears began production in 1979 as part of a small antique store in Boyds, Maryland (for which they are named), by Gary M. Lowenthal and his wife, Justina Unger. Their first bear was fully jointed and named "Matthew" after their newborn son. I learned that from the start, all the bears were imported from China. The company moved to Hanover, near Gettysburg, Pennsylvania, in 1987. In 1993, they introduced resin bears and then increased their product line to include many different items. They also branched out to include other "friends" of the bears. The couple sold the company to Enesco in 2008. Enesco decided, unfortunately, that Boyds Bears should be "put into hibernation" (in other words production was stopped) in 2014.
Do you know how the notion of "teddy bears" got its start?
They are named after Teddy Roosevelt. In 1902, he refused to kill a captured bear. Word spread and Morris Michtom, a Brooklyn, New York, shop owner, along with his wife, created stuffed bears based off of political cartoons that had been spreading. Michtom obtained permission from Roosevelt to call his creation "Teddy Bears." Of course, people young and old flocked to buy them. The teddy bear was even used when Roosevelt ran for re-election, as his mascot!
How likely is there to be another item just like Eli Q. Spangler?
I could not find any information on how many of these bears were produced; however, even though he is a "retired" bear, I had no problem finding listings for him on line on many different sites. This is probably due to the fact that they were mass-produced in China.
Does Eli Q. Spangler have a personal connection to me?
I don't necessarily have a personal connection to Eli. I just know that I fell in love with his face. Boyds Bears' noses are so endearing, you can identify them right away. It is hard not to fall in love with every bear produced. Because I bought him so long ago, I don't remember what made me choose him over all the others. Perhaps it was the time of year or a holiday.
Are there any clubs or online chatrooms for folks that share a passion for Boyds Bears?
There had been an official fan club called the "Loyal Order of Friends of Boyds!" that was established in 1996. There was a membership fee, which included membership perks, an online newsletter, and admission to a members-only website. Enesco determined 2014 would be the final year for the club. Aside from this "official" club, there are tons of others. Here are just a few. Keep in mind these are not officially affiliated with Boyds Bears:
BearsnBuddies.com
BearMuseum.com
BoydsWeb.com
It was nice to learn about the bears whose faces I fell in love with. I was, however, saddened by two facts: 1) They were mass-produced in China, and 2) They are no longer in business. The company was based in a town only a few hours from my home, so I felt a special connection to them."