Welcome New Sisters! (click for current roster)
Merit Badge Awardees (click for latest awards)
My featured Merit Badge Awardee of the Week is … Michal Cole!
Michal Cole (#7441) has received a certificate of achievement in Stitching & Crafting for earning a Beginner Level Sew Wonderful Merit Badge!
"I put together a sewing kit for my daughter, who will be a junior in college at the University of Idaho. I like to try and do a fun back-to-school gift, but as she is in her third year, she has more than enough of the typical items. When I last visited her, she commented on all the little baggies she had of extra buttons from the clothes she gets, so when I read the requirements for this badge, it all just kind of came together. There is a significance behind the acorns. She is in a sorority, and the name of her "family" in that sorority is the acorn branch of the nut family tree. I thought it would be fun to include those. I had so much fun putting it together!
I included two small Mason jars, one for the many extra buttons she has. The other has several bobbins wrapped with thread, and some empty ones. She is a lefty, so I bought her left-handed scissors, and sticking with her signature color, spray-painted them pink. I also added a scissors fob with her initial and an acorn and a pretty button as well as a felt cover for the blades. I made her a needle book based on a pattern from Nana Company. I added a small pocket to it to house a soft measuring tape, a seam ripper, and an ez-pull bodkin. Lastly, I crocheted a small amigurumi acorn, wrapped some steel wool in batting, and stuffed it for a pincushion. For the straight pins, I found some cute heart-tipped ones and included those.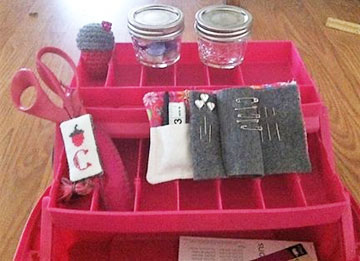 I think it came together in such a fun and cute way. It was my first shot at making the needle case, so next time, I will make some adjustments, but otherwise, I am really happy with the results."