Welcome New Sisters! (click for current roster)
Merit Badge Awardees (click for latest awards)
My featured Merit Badge Awardee of the Week is … Ginger Dawn Harman!
Ginger Dawn Harman (Ginger Dawn, #6451) has received a certificate of achievement in Outpost for earning a Beginner Level Pampered Pets Merit Badge!
"I have made a new commitment to our pets Oreo and Gelato! I have a veterinarian in my area that practices holistic and natural veterinary care but also uses other practices.
I checked out the labels and ingredients of your pet foods. It was very bad. So I am in the process of changing foods.
I love all the pets in my house … well maybe not the Madagascar Hissing Roaches that my son has. Nevertheless, I want to make sure that I am doing the best for each animal. Our one cat has a bit of a weight problem. We have noticed that in his older age, he is not able to clean himself very well. So I made an appointment at our local vet and this also provided me a great opportunity to learn what treatments are better and which food to use.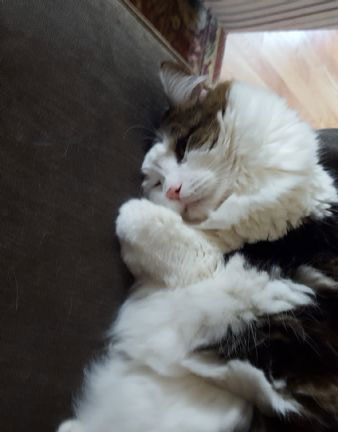 First, the food that I was using was very bad. It was filled with terrible stuff. I don't want to cause a negative impression, so I will not list the name, but it is cheap and can be bought at any local market. The vet said it is not good to switch food all at once, so my cats are getting a mix until next week. We now are using a Natural Balance Reduced Calorie Dry Cat Food (15-pound bag).
Oh, and I learned that essential oils are great for pets, too. Just like for us, lavender is great for calming. Now this is important to know! Most animals are more sensitive than humans to essential oils. Start by diluting heavily and use in moderation. Every animal is different, so carefully observe how each animal responds to the oils. Use common sense and good judgment as you try different methods. Take special care to not get essential oils in an animal's eyes. Avoid using high-phenol oils such as oregano and thyme with any animals, especially cats. Use special caution when using essential oils with cats. Cats are also generally averse to citrus essential oils.
Also, there are other holistic methods that can be used, such as acupuncture, massage, and chiropractic treatments. My vet showed me a few calming massage rubs for Oreo, and he was happy and relaxed and this is on his diet food. Personally, I get crabby when I am hungry. As I said, I love my pets and they deserve the same quality of care as we humans do!"