Barbie has taken a lot of flack over the years. The brunt of countless jokes and the unwitting victim of scathing criticism, this deceptively dulcet darling has hung in there with her head held high.
Barbie knows how to stay on her toes, if you know what I mean.
Of course, doll devotees (count me in) have always known there's more to Barbie that just a pretty plastic package. After all, she has seen generations of girls through good times and bad. She inspired our daydreams. She forged our fashion sense. Barbie helped lead us gracefully along the winding path to lady-hood.
That deserves a dollop of deference, don't ya think?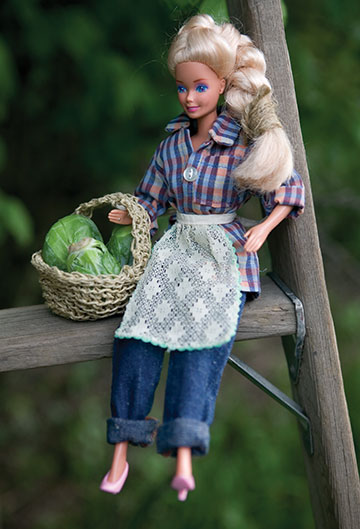 True to form, Barbie continues to evolve with the times, and she only gets more benevolent with age. Our golden girl, the original American idol, has a heart every bit as bountiful as her bosom—and she's losing her lustrous trademark locks to prove it.