I'm not a huge television fan, but occasionally something so engaging comes across the screen that there's nothing I'd rather do than snuggle up and let myself get swept away to another landscape, another time, another story.
Know what I mean?
For me, there's no better time to get lost in a good movie than a chilly winter's night over a holiday weekend.
So, let me share with you my recommendation for your next "me-time" movie night:
This is not a husband's movie (read: action), or a kid's movie (read: animation), although some of each would certainly enjoy it. At its heart, Sweet Land is a genuine woman's movie, and a farmgirl's movie at that.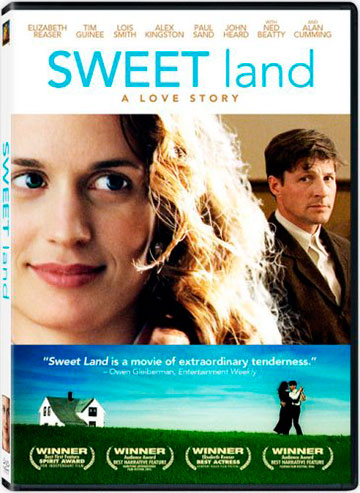 Some of you may have seen this quiet, unsung gem (it was released in 2007 with plenty of critical acclaim, but not a lot of promotion). Those of you who haven't are in for a treat. The story is simple, rooted in the American aftermath of World War II, but based on a short story by Will Weaver.
What counts most in this movie is its engaging cast of characters …
A gutsy German mail-order bride named Inge lands on the vast plains of Minnesota, where she is to marry Olaf, a young Norwegian immigrant farmer of few words. Forging a marriage under these conditions would have been challenging enough, but the task becomes even more complicated when the local minister forbids the marriage on the basis of Inge's nationality (anti-German sentiment was still raging in the wake of the war), and the town banker is determined to foreclose on a neighboring friend's farm.
I won't say more, lest I give too much away, but I will tell you that friendship, happiness, laughter, and love are as plentiful as wheat in the fields. And the lovely Elizabeth Reaser's portrayal of Inge adds sass and spice to a seemingly bleak northern town populated by tight-laced settlers.
Here's the Sweet Land movie trailer for a sneak peek: