You know I can't resist a good book, and with the shorter days upon us, I've been on the lookout for an engaging story to snuggle into for some fall reading. On my quest for something brilliant and extraordinary, I stumbled upon 18 new writers whose work is being considered for the first-ever Kirkus Prize, one of the newest literary awards for fiction, non-fiction, and young adult writers that pays a whopping $50,000 to the winner in each category.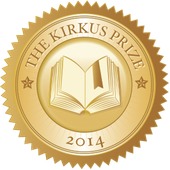 I have to admit, I was intrigued to see what a book of that caliber might look like. I discovered that the Kirkus Reviews magazine has been reading and reviewing submissions since 1933, and their magazine, website, and e-mail newsletter act together as a sort of marketing liaison between writers, industry professionals, and readers.
To become shortlisted for the Kirkus Prize, authors had to have a starred review from one of the magazine's reviewers to be passed on to judges for further consideration. The judges have narrowed it down to the top six in each category, and the winners will be announced on October 23, preceding the start of the Texas Book Festival in Austin. In the spirit of the universal team of book lovers, I'll happily volunteer to explore the winner in the fiction category and report back.