We have LEGOS strewn all over our house on a very regular basis. My 5-year-old, Mia, claims she's going to be a builder when she grows up. Turns out, she can be, and it could be a result of building and designing LEGO sets. In fact, anyone so inspired can create the next new lego set for sale.
Meet Thomas Poulson, a tree surgeon and gardener in Bristol, UK, whose passion for nature and love of LEGOS have collided to inspire the very first LEGO Bird Set. Poulson credits a chance encounter with a certain Robin Red Breast, who happened to land on his shovel while he was working one day, as the inspiration that began his journey.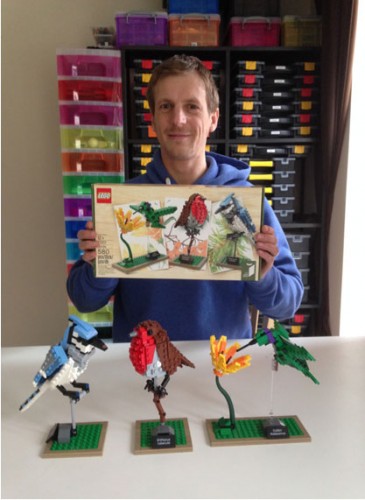 A recently rekindled passion for LEGOS (he refers to them as the best puzzle in the world) sent him scurrying home that fated evening to work on an idea, and "Bobby the Robin" was born. The original Poulson made that first night was given to his mother as a thank-you for providing him with his first set of LEGOS. He found the creation of Bobby so enjoyable that he decided to make his favorite birds of Europe. When he finished the first seven and posted them online, he was quickly encouraged to submit his ideas directly to LEGO, where enthusiasts get a chance to see their ideas in production if they get 10,000 supporters. Poulson says the biggest challenge of designing is that he never has enough LEGOS, a sentiment with which LEGO builders like my Mia can sympathize.