In this beautiful new book by photographer Francesco Mastalia, Organic: Farmers & Chefs of the Hudson Valley,
you'll find over 100 one-of-a-kind ambrotype portraits of the farmers and chefs of the Hudson Valley. Not only are the photos beautiful, but they are of some of the most influential members of the organic movement.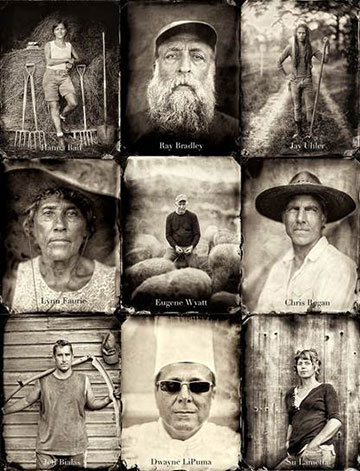 The book includes portraits and interviews with Amy Hepworth, Dan Barber, Zakary Pelaccio, Ken Greene, Steffen Schneider, and many many more. In narrating their own stories, the farmers and chefs share their philosophy about what it means to grow and live organically and sustainably.
Mastalia used the wet-plate collodion process, a technique developed in the 1850s when the art of photography was in its infancy. With the use of a large format wooden camera and brass lens, glass plates are hand coated to produce one-of-a-kind ambrotype images. The amber-toned images remind us of a time when the cultivation of land was a manual process that linked the farmer directly to the soil.
" … for anyone who likes their locally-grown, pesticide-free carrots with a dusting of nostalgia, Organic is tasty indeed." – TIME.com