Go ahead, ask my granddaughters …
I am positively mad for the madcap fun of Mad Libs.
(Did you see that I even took a stab at my own version, dubbed the "ag lib"?)
Yup.
So, imagine my delight when I learned that gals like me were goofing around with "libs" long before the template took on a trademark. Leave it to Susan Odom to discover such a treasure.
Who's Susan, you ask?
She is the brilliant proprietress of Hillside Homestead, a historic Michigan farmstay that you'll get to visit in the Oct/Nov issue of my magazine, on newsstands now (this is one you won't want to miss … but aren't they all?). When Susan isn't entertaining guests with authentic turn-of-the-twentieth-century meals and activities around her pastoral property, she blogs a bit. And in one of her posts last summer, she wrote, "Well, here we sit on the longest day of the year as we prepare for our big Farmhouse Frolic tomorrow! We are all so excited—we will be waxing eggs; bubble bowling; making rhubarb sauce; playing games; watching pigs, ducks, and chickens; and so much more. One thing we could not quite fit into the schedule was a 'mad lib' found in a wonderful book called The American Girls Handy Book, which was published in 1887 (read more about that here). It's called 'Biographical Nonsense' … Who know that there were historic mad libs? Great fun at a party!"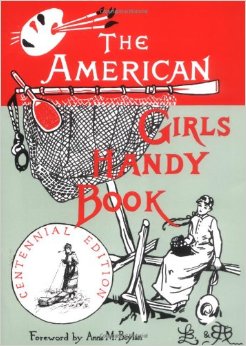 Thanks to Susan, we can all access this humorous helping of history here. Print it out and present it to the attendees of your next farmgirl gathering.
Giggles are guaranteed.