(From Karen in Southern California.)
Last fall, your son Brian gave me a head of heirloom garlic to plant that he said you are trying to bring back from near extinction, and I wanted to report how it is going here in Southern California. I put the head of garlic in the fridge for a few months because I do not have a yearly chill to the extent that you have in Idaho. Once the days started to get longer (daylight savings time), I planted them …
… into a pot so I could protect and watch over them. Last night, we had a lovely, light rain, and today I noticed the garlic is flourishing! I am so happy. What variety is this garlic? I just call it MaryJane right now … Anything else I should do to guarantee this garlic flourishes in my mild temperate climate?
Love to you & yours!
Karen, Farmgirl #89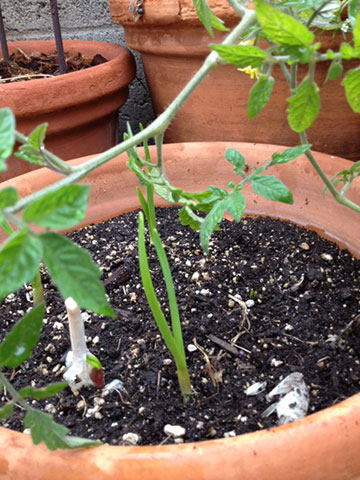 Hi Karen!
Both the softneck "Butters" garlic (ideal for garlic braids) and the hardneck "MaryJane" garlic (hardneck means it produces a scape) are rare varieties that I've slowly brought back into production. From 60 different varieties that I've been experimenting with, these two are the best. They were originally found in the outback of the Soviet Union by Rich Hannan, the former director of the Western Region U.S. Department of Agriculture Germplasm Bank, located in Pullman, Washington.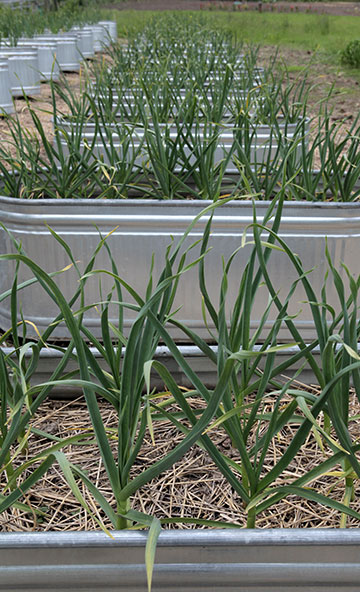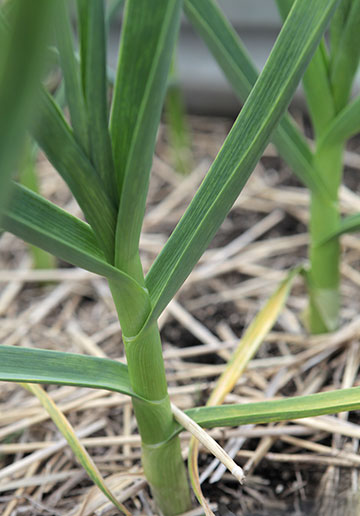 I've grown both varieties here for almost 10 years, "sizing them up" every year and multiplying my stock. For the last few years, our crop has fallen off a bit and, as you know, we have been out of stock, but I am pleased to hear that the few heads we could send out to those on the waiting list were put to good use. There is nothing special to do in your climate zone, just as usual, give it lots of love!