Wondering who I am? I'm Merit Badge Awardee Jane (MBA Jane for short). In my former life …
For weeks now, I've been planning to outfit my favorite craft store clerk with her own homemade, ruffle-icious apron. That drab and sad thing she wears is depressing and doesn't do anything for her figure. Of course, I realize it's part of her uniform, but there's no way management won't approve the little number I've got up my sleeve!
I've been inspired lately on Pinterest …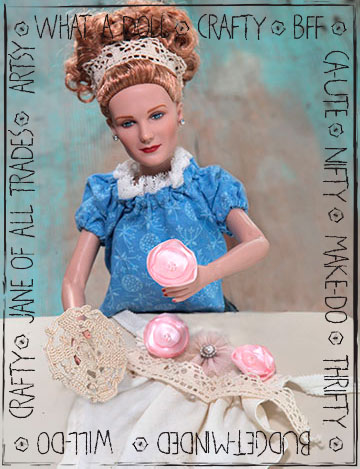 Haven't been there, have you? Well, have you got ten minutes, ten hours, ten days to organize your life? Head on over and pin with us; you'll be glad you did. Anyway, though, aprons are making a big comeback since the days of June Cleaver and Donna Reed. That's right, these ain't yo mommas aprons! Well, they kinda are, since vintage is way cool, but I digress.
The flounces! The ruffles! The lace, buttons, pockets, and bows! My heart was thumping and my insides were like butter. Like butter, I tell you. Calico, gingham, burlap, cotton, and plaid, oh my.
First, I needed a pattern, and for that, I decided to use my Gramma Barbie's favorite apron she passed down to me. I unfolded it and laid it flat on the fabric of my choosing (a seriously yummy seersucker in gorgeous shades of lavender and moss green). Carefully, I cut around it, leaving plenty of room for seams and hems and whatnot. Or whatknot. Ha, I kill myself.
I used a contrasting gingham for my bow and kept it plenty long for that flouncy, flirty look. At the bottom, I edged the apron with some adorable rickrack and then I was moved to add another ruffle. You know what they say about ruffles: one more is never enough. I think that's what they say about ruffles. Maybe that's what they say about fries. Moving on.
I wanted to do a full length one, with the front part for over your blouse, but I didn't want to over commit myself, this being my first arpon. The pockets were a bit of a challenge, only because I'd never done pockets before, but I got them on there. A bit crooked, but that only adds to the charm. I'm not saying they'd hold anything precious or heavy, but I'm fairly certain you could put lightweight items in there and they wouldn't slip through the stitching. Maybe I'll tell her they're strictly decorative pockets.
I had so much fun on this Merit Badge! And it is way pretty. All old-fashioned, yet totally modern, all at once. Aprons are the new little black dress, I swear. I got so attached I wasn't sure I could actually give it away … I mean, the clerk didn't even know it was coming, so she'd never miss it, right?
Or I could just spend tomorrow afternoon making up a new one … there was some sky-blue calico calling my name from the bargain bin just the other day … how cute would a denim trim be, hold the pockets, extra flounce?
I need a kitchen apron. And a gardening apron. And a going-out apron. And a staying-in apron. And an apron-making apron … somebody stop me.