Good morning Canada!
From my hotel window, I looked down on the Toronto City Hall with its extensive vegetable garden on the roof. How cool is that?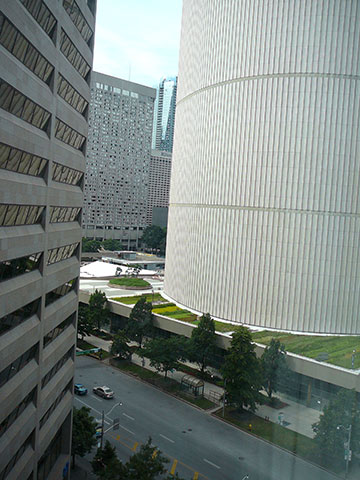 This is the second time we've stayed in the Marriott just off Trinity Square—a church that has been surrounded …
… on all four sides by development.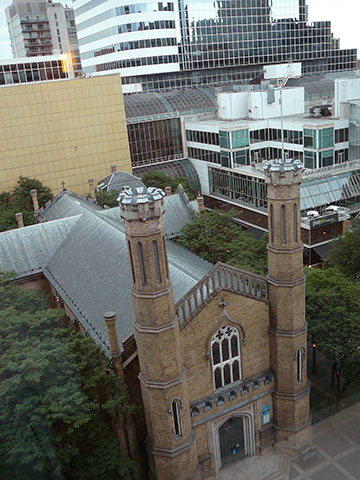 Built in 1847, the church is lovely and is the hub for constant gatherings, services, and wondrous singing that fills the square!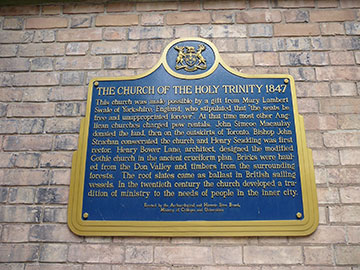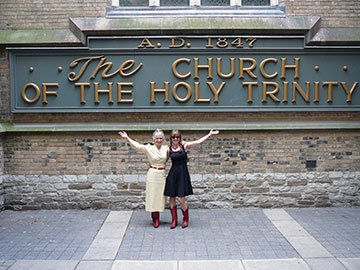 The stained glass windows are breathtaking. One can walk into the church at any time of the day. As I sat there one day, I was asked by a woman if I'd care to stay for soup. Canadians are over-the-top friendly. Toronto is big and busy like NYC, but everyone has a small-town smile/attitude. I am in LOVE with Canadians.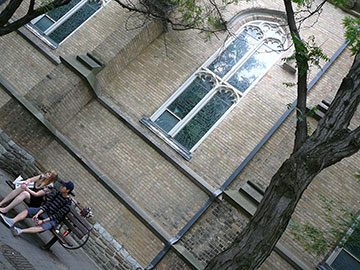 My grandgirls helped me buy the perfect umbrella in the HUGE Sears store right next door where my bedding is for sale.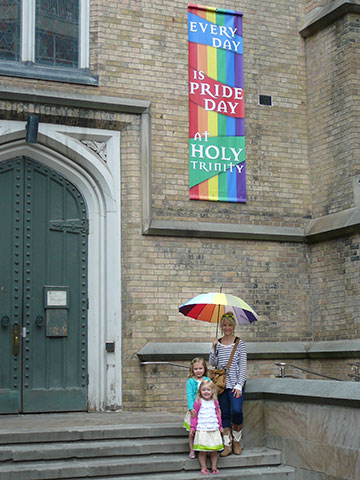 There was a book sale one day in the church square. I noticed during the sale that the outside benches were full of people reading books. Later that evening, after the sale was over, the benches were full of people talking on cell phones and texting.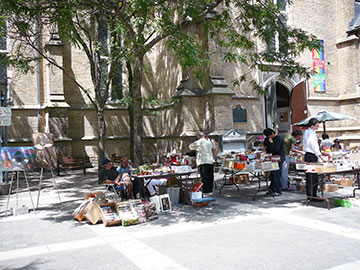 Right next to the church and only a few feet from our hotel was the entry into the biggest mall I've ever set foot in.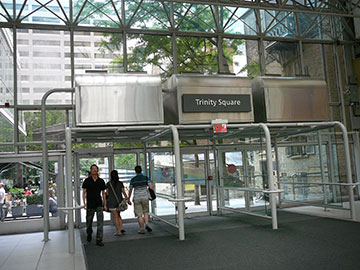 I looked up and said, "This is the place!" In a few hours, Meg and I would be offering our crafting class by the main entrance of the Sears store.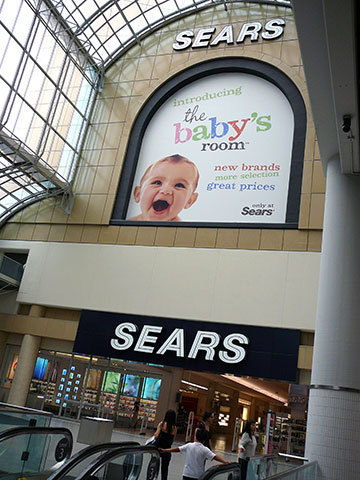 Three floors. I felt a bit of vertigo coming on.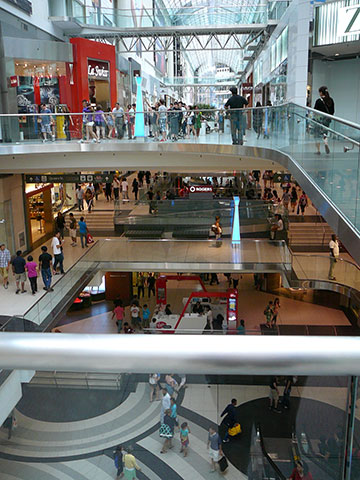 The entire building is just one big skylight.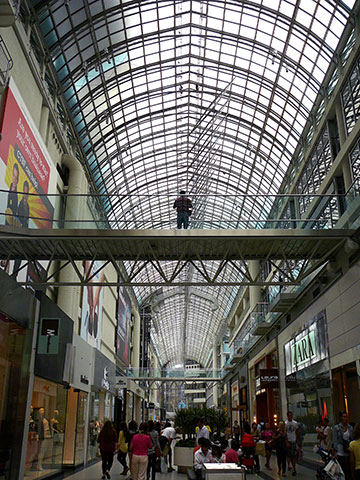 We made new friends that day and filled all the seats. Thank you for coming!!!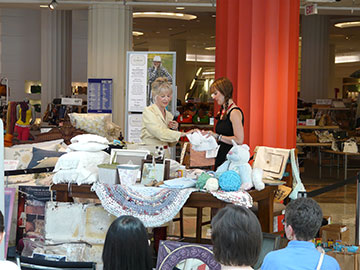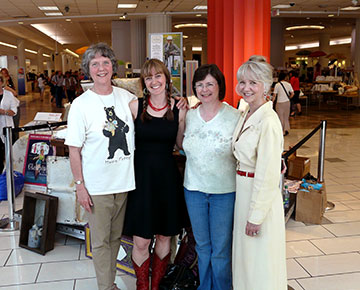 We had lots of fun giveaways and stories to share.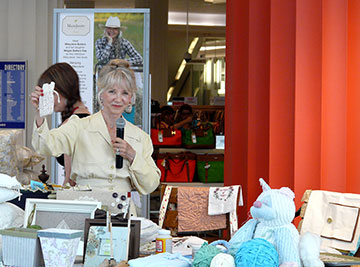 Our work accomplished, we went to one of Toronto's white-sand city beaches. Clean and gorgeous. There was a jazz festival going on all week with venues happening simultaneously in dozens of locations around the city. The beach had live music that the grandgirls danced to. We missed Norah Jones' live performance right across from our hotel by a day. Would have loved to hear her sing.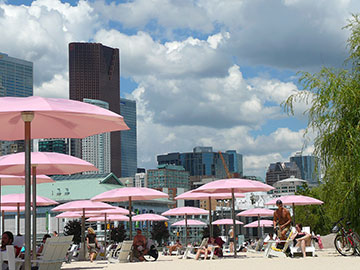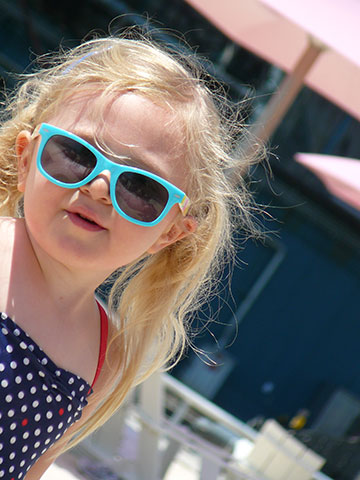 The next day, we hopped into two taxis (red and yellow) and …
turqoise and orange, to spend time in the distillery district. Loved the happy, bright colors of the taxis in Toronto.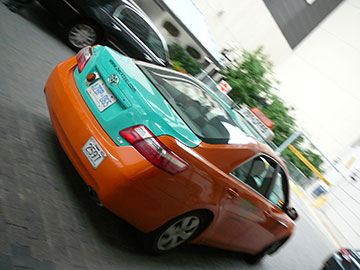 Cobblestone streets.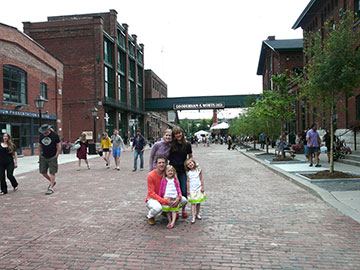 Flowers everywhere.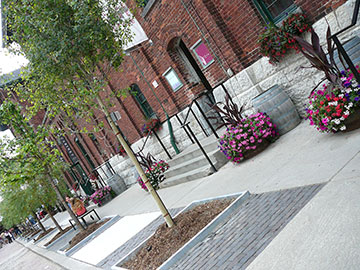 Little garden shops along the way.
Farmgirl decor.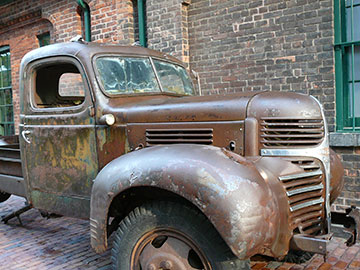 Organic beer!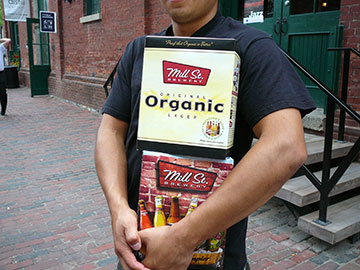 And …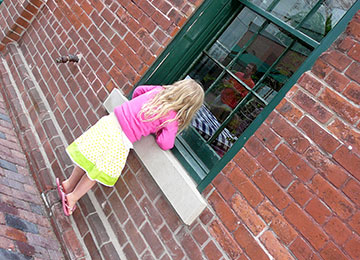 … doors like in the movie Hugo.