Here's Shery Jesperson, our Ranch Farmgirl blogger, and her 'Cabin in a Can'. (More pics of glamorous, fabulous, tricked-out, gorgeous, stunning, and stupendous glampers coming soon.) This is the spot where we've enjoyed more than one delicious cup of coffee, as well as banana, chocolate and cinnamon bread of all sorts. Shery, THANK YOU and your glamper girlfriends for your Wyoming-style hospitality (hearts as big as a washtub) …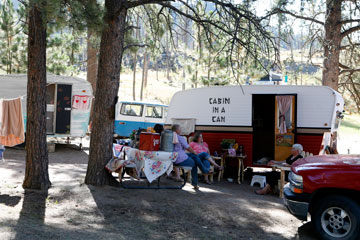 So far we've had two amazingly glamporous dinners, a riveting game of BINGO!, antiquing, a stop off at Mount Rushmore, as well as doses of pure laziness filled with laughter, music, and sisterhood.
And here's my beaut! All dressed up with places yet to go. Stay tuned for more excitement from the road.