Oh my, look what came in a box to us from two women seeking their Project F.A.R.M. (First-class American Rural Made) status. Get on over to their website and fetch yourself some certified rural-made goodies, all of them adorably farm themed. Chicken phone cover? Goat Chick mouse pad? Rooster soap? Crazy Chicken Lady key chain? Hen apron? (Actually, it's called a "chicken saddle' to be used when there's some hen-pecking goin' on, or worse, over-mating. Now admit it. That put a smile on your face.)
Travel diaper for your pet chicken or rabbit? They've got it all.
I'm thinking gifts. How about you? Here's where you can can find Brenda and Mandie (mother and daughter business team) and their adorable rural-made creations, louisescountrycloset.com or LIKE them on Facebook.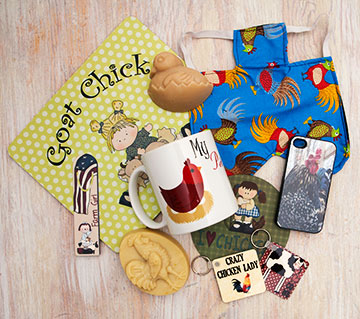 And check out this cup and cell phone case.