The adorable, always humorous MBA Jane is my way of honoring our Sisterhood Merit Badge program, now with 4,945 dues-paying members who have earned an amazing number of merit badges so far—6,765 total! Take it away, MBA Jane!!! MJ
Wondering who I am? I'm Merit Badge Awardee Jane (MBA Jane for short). In my former life …
For this week's Stitching and Crafting Merit Badge, I put my tongue between my teeth, settled down in a comfy spot, and got out my paper collection. Since I've been recycling and trying not to waste not/want not, my paper supply was getting out of hand. I've never really tried origami unless you count my heart-shaped valentines or the way I attempt to fold napkins at Thanksgiving (and I don't think the Buddhist monks who perfected origami would consider it such), so I was in for a learning experience, thank you very much.
Evidently, no one knows for sure and certain who invented the art of origami—the Japanese or the Chinese—but I think I can safely say they have both excelled at it. Me? Not so much.
Not yet, anyway … but just you wait until Thanksgiving.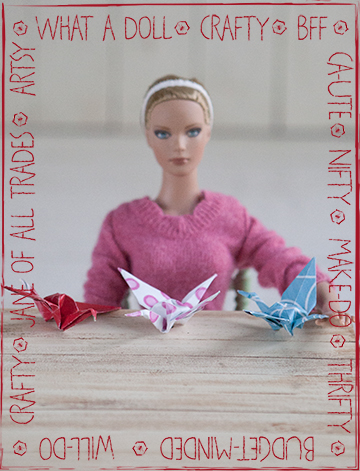 Anyway, I figured I had better start small (NOT the motto of the Senbazuru Orikata: How to Fold One Thousand Cranes). I picked out a lovely heavyweight paper of the polka-dot variety and watched a tutorial (huzzah for the Internet!) on how to fold a rose. Yes, a rose. Then, in my feverish passion, came a boat with a cheery striped print, and a plane in a shabby chic motif. I was getting the hang of it.
With my newly acquired skill of paper folding egging me on, I made my first crane. He was so darn cute in his blue and green plaid paper that I made four more. Then another six. I could easily see how origami professionals could get to a thousand. It was strangely addicting. Soothing. Therapeutic. Weird, kinda.
I'm not exactly sure what to do with my new-found talent. (How do origami experts find jobs? Is there a college scholarship for them? An origami factory? An addiction recovery center?) But I figure I'll think of something. In the meantime, well, I'm enjoying flying my paper airplanes for my kitty to chase, arranging my boats near my bathtub, and wrapping up Mr. Wonderful's lunch sandwiches in aluminum foil swans. I'm pretty sure his co-workers are madly jealous.
I fell asleep counting cranes flying over treetops instead of sheep jumping over fences. Nice.