Mom and I were summoned to testify as witnesses after someone stole our store sign recently.
After negotiating a babysitter, stressing about the fine that might incur if we were late, and of course, figuring out what to wear, we arrived at the courthouse right on time—only to be told the case had been dropped.
Hmmm, what's a farmgirl to do? Well, there's always work to be done, but how often do the two of us find ourselves in downtown Moscow, in the middle of a Friday morning, with no kids and everyone at the farm thinking we're busy for a few hours?
In honor of my October 1 birthday, we decided to play hooky. We first visited our favorite little restaurant for breakfast. Then off for a bit of window shopping! We never get to do this … just leisurely walking down our beautiful Main Street enjoying the local wares.
We ended up at our local consignment shop. I'll admit this is not the first time I have fallen madly in love while in this shop, but it blindsided me again! Low and behold, they had a fabulous pair of purple boots perched on the shelf calling my name. Ah, in my size even.  (Mom also has a pair of favorite boots, ah the love of boots must be hereditary.)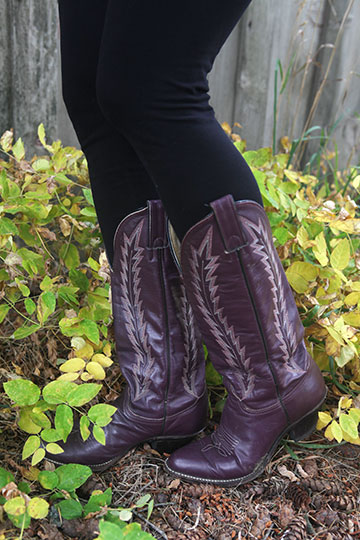 So a huge thank you to the prosecutor that dropped the case and forgot to tell the witnesses because I am now the very proud owner of a perfectly broken-in pair of cowboy boots. A good find is a good find, and I am a softie for shoes, boots, and heels … anything I'm a walkin' in!