Have you heard of the term drip dry?
(No silly, not the Urban Dictionary definition … defined as a move that females have perfected as a result of no toilet paper/lack of sanitary conditions. Try again.)
I recently tackled the chore of ironing the mini-curtains we have for our new Glamper (debut very soon) with even tinier ruffles. Mothers are always good for aiding in the tackling of such quandaries and sure enough, she had the perfect solution (that for some reason has escaped me all these years).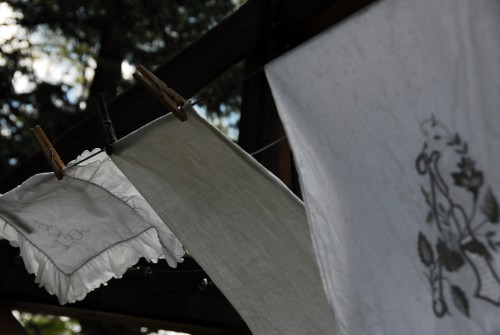 Drip dry: simply hang your lovely little curtains on the clothesline and spritz them with a spray bottle full of water where wrinkled, then smooth with your fingers, and let dry in the sun and wind. Viola! My curtains were perfectly ironed, courtesy of my mother.
Disclaimer: I am sure this idea is not original to my mother and has probably been passed down for several generations of linen-minded women. This farmgirl intends to continue passing it on. Genius!