The adorable, always humorous MBA Jane is my way of honoring our Sisterhood Merit Badge program, now with 5,518 dues-paying members who have earned an amazing number of merit badges so far—7,301 total! Take it away, MBA Jane!!! MJ
Wondering who I am? I'm Merit Badge Awardee Jane (MBA Jane for short). In my former life …
For this week's Each Other/Languages/Culture Merit Badge (Level Two … you heard it here first!) I brushed off my American Sign Language skills. They had gotten slightly rusty from disuse, but since all I had learned earning my Beginning Level Badge was the Alphabet and how to count to 10, it didn't take long to jog my memory.
I had recently connected with a girlfriend—a Sister, if you will—who was learning sign language too, so we decided to meet for coffee and earn the next level together.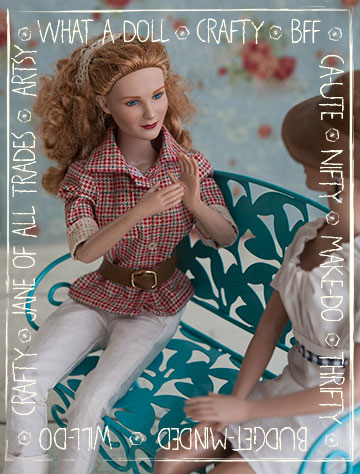 Solidarity, sisters!
That's where it's at.
And if there's a grande, full-fat mocha with a shot of caramel, a drizzle of hazelnut, whipped cream, and a scone involved, then that's where I'm at!
$7.45 later …
We were enjoying our silent communication, although I confess to it being slow going at first. We had decided to limit our talking to that which could be done with our hands, but since we were both still beginners, it was harder than we thought! My pal was trying to tell me about the influential person she had researched (this step is required in the Intermediate Level, dontcha know?) and I was getting baffled. A side of bacon that had traveled the Earth, singing songs of America? Either my friend was a terrible speller, or I needed to focus more on sounding things out! Turns out she was talking about Heather Whitestone, who was the first deaf Miss America. To this day, I have no idea if she travels with a side of singing bacon though. I just smiled and nodded a lot.
Then it was my turn to tell about MY influential person (funny how learning about someone makes you feel like they are now a part of you and kind of belong to you). My person was LeRoy Columbo.
Never heard of him? Get it? Heard of him? Haha, just a little hearing-impaired humor there for you!
Anyway, LeRoy is my new hero. He was a deaf lifeguard who—get this, brace yourself!—saved 907 lives!!
That was a two-exclamation-point sentence right there.
He was even in the Guinness Book of World Records!!!
That one deserved three.
I got so excited telling about LeRoy to my friend that my hands got fast and carried away. She obviously had no idea what I was talking about, so we had to break our little agreement for a few minutes and fill in the gaps in our stories as we sucked down the last of our mochas. We got a little immature over whose hero was the greatest, but I'm still pretty gaga over LeRoy.
I was surprised at how just an afternoon of speaking with my hands carried into the rest of my day and week. I found myself signing occasional things as I spoke, out of a new habit and muscle memory, which I thought was pretty cool! I tended to talk with my hands a bit anyway—it's that Italian side of me, very dramatic—but now my flailing and tossing and gesturing actually means something!
It's pretty neat.
Like a secret club.
We just need a secret handshake.