Welcome New Sisters! (click for current roster)
Merit Badge Awardees (click for latest awards)
My featured Merit Badge Awardee of the Week is … the Krell family!!!
Alysha, Caleb, Emma, Ethan, and Paige Krell (Young Cultivators of Jessica Krell #5148) have received a certificate of achievement in Farm Kitchen for earning an Expert Level All Dried Up Merit Badge.
"We picked some raspberries and some Saskatoons with my family and our friends. Then we dried some of the berries and used some more berries to make some fruit leather.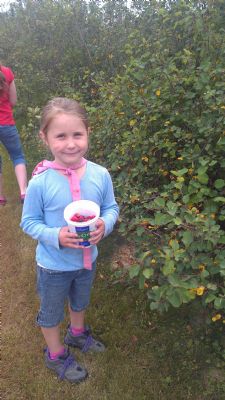 Picking the berries was really fun! The hardest part was not eating them along the way! At home, we dried some of both kinds of berries and used them in our oatmeal the next day for breakfast!
Picking the berries was hard work, but we like to work, so it was fun."