While we're still in the throes of glamping season, I thought I'd share one of the throw rugs we sell in my store in Coeur d'Alene, Idaho (log onto Facebook to get to the store page). It's wool. It's well-made. It's adorable. And I have one for all of my glampers (yup, that's plural, as in several—two Shastas, one Airstream, one Yellowstone, one Tabitha, and one teardrop). Recently, we took most of them out of town for a family vacation to the same campground we stayed in last year. It made for a head-turning caravan going down the road, kind of like the scene in the rug.
And here's my cat, Jasper Tomkins, right after he told me that if I took a photo with him on the rug, it would look more purrfect. You think I'm kidding, don't you? I put the rug down on the floor to take a pic of it and he promptly walked over and posed just so for you. See, even cats get the glamper thing.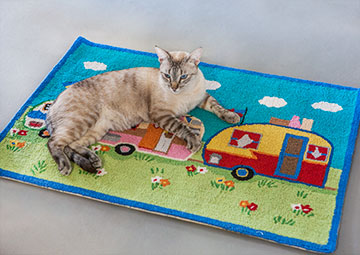 The 2′ x 3′ hooked wool rug was created by Carol Eldridge Designs. In order to make it yours, tell me in a comment below all about your trailer (or tent), along with its name. If you don't own a trailer or tent, tell me what your fantasy glamper would look like. I'll put your name in my glamper train case and pull out a winner to be announced here next month. Stay tuned!