The adorable, always humorous MBA Jane is my way of honoring our Sisterhood Merit Badge program, now with 5,929 dues-paying members who have earned an amazing number of merit badges so far—8,474 total! Take it away, MBA Jane!!! MJ 
Wondering who I am? I'm Merit Badge Awardee Jane (MBA Jane for short). In my former life …   
For this week's Outpost/Glamping Expert Level Merit Badge, my farmgirl friends and I joined forces and went glamping.
Oh yeah.
And in style … to boot.
(Boots? I brought boots of course. They look fetching with a sundress if I do say so myself).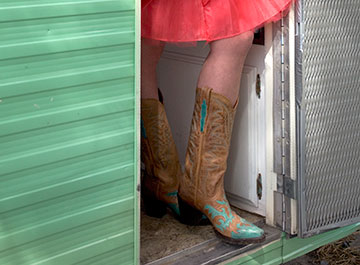 Glamping—as we all know by now, unless you've been living under the perverbial rock—is a form of camping, but with more flair (glamour + camping). I'd worked my way up to this Expert Level badge, and I was itchin' to really put my skills to use. I use the expression itchin' in the figurative sense, of course, though I did bring some homemade anti-itch cream with me, just in case.
Homemade Anti-Itch (calamine) Lotion
1 t non-nano zinc oxide powder
1 t fine sea salt
1 t baking soda
2 t bentonite clay
1 T witch hazel
10 drops peppermint essential oil
Mix the zinc oxide, sea salt, baking soda, and bentonite clay. Slowly add the witch hazel and stir continuously until it's nice and creamy, then add peppermint oil. (It's a good idea to keep all of the dry ingredients on hand in a jar. Then all you have to do is mix in the wet ingredients. This recipe may not last super long, but if you're prone to bug bites and falling into sneaky patches of poison oak like I am, that won't be a problem.)
I've been saving up my spending money to buy a little teardrop camper,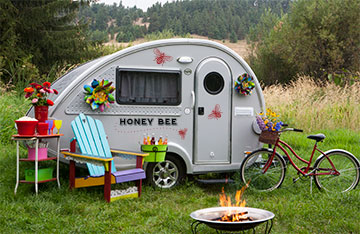 but in the meantime, I still have my trusty childhood pup tent.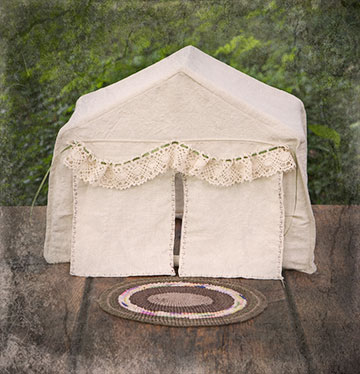 I patched up any holes, shook out the remains of 20 years of dead bugs, and aired her out in my backyard before we were ready to go. Then I got a little crazy and crafty and used some rickrack and lace trim I had lying around, and edged the tent. Once we got to the campsite, I hung some pretty crystal beads near the doorway and put a sweet little rug down at the entrance. She was looking gorgeous. I decided she needed a name. Cars get names, boats get names, campers get names, why not my adorable little home-away-from-home?
I stepped back and studied her with a critical eye as I sipped my Lady Grey tea out of my china tea cup (hey, I said this was glamping!).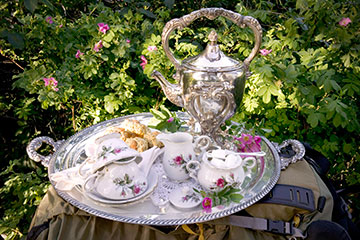 I straightened her up (she tends to list to one side, but I think of it as cute little way of cocking her head) and placed my favorite lawn chair nearby. The effect was enchanting. She really was a looker. I named her Vivian Leigh.
Then I took in my friend's campsites; we were sitting pretty. Midge had brought her Airstream with the awning that cranks out by hand in the most delightful way, and our girlfriend, Skipper, had brought her original 1978 Volkswagon bus with the gingham curtains. (Did you know you can buy tents that look like VW buses? I know, right?!)
Our campsites made in the shade (literally and figuratively) we grilled up our dinner, sang songs around the campfire, brushed our teeth, and hit the hay. It was a night to be remembered: Midge, Skipper, Vivian Leigh, and me.