It's not every day that one happens upon a word as fabulous as:
Flibbertigibbet.
I mean, really, it's almost addictive—you can't help but giggle when you say it …
Flib-er-tee-jib-it.
Try it three times fast and see if you can keep a straight face.
Something of an unsung onomatopoeia, flibbertigibbet (see, I had to say it again) refers to a talkative, flighty, "light-headed" person. While its origin is obscure, Dictionary.com tells us that this 15th-century term "is thought have been formed as an imitative representation of the sound of chatter or gossip."
Are you thinking what I'm thinking?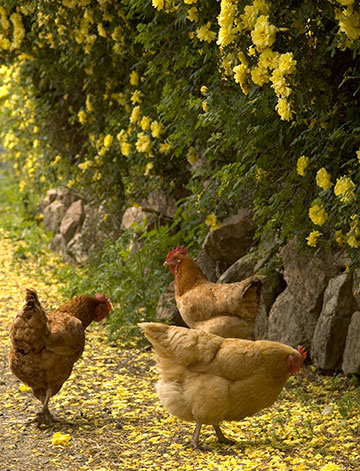 Flib-er-tee-flib-er-tee-flib-er-tee-JIB-IT!
Of course, here and now, amid the modernity of the 21st century, we politely shy away from placing gender restrictions upon our adjectives, but, for the record, flibbertigibbet is generally reserved for young women. So, I suppose this would be more fitting …
And, speaking of poultry, you may recall the gabbling goose in E.B. White's Charlotte's Web declaring, "I am no Flibberty-ibberty-gibbet."
Perhaps the one instance of flibbertigibbet's utterance that packs the most parodic panache, however, is this (click to listen) …
Unless you're one of the few devoted fans of the 1990 film Joe Versus the Volcano …
… you may not recognize the satirically sultry speaker as actress Meg Ryan, playing the ravishing (if a bit bird-brained) redhead, Angelica Graynamore.
Your turn to get flibbertigibbety. Cluck away in the comments, dear hens.