The adorable, always humorous MBA Jane is my way of honoring our Sisterhood Merit Badge program, now with 6,035 dues-paying members who have earned an amazing number of merit badges so far—8,663 total! Take it away, MBA Jane!!! MJ 
Wondering who I am? I'm Merit Badge Awardee Jane (MBA Jane for short). In my former life …   
For this week's Each Other/Connecting Growers and Eaters Beginning Level Merit Badge, I volunteered to take over the gardening duties of my neighbor, Mr. Midgely. Recently, he had taken a tumble down his porch and his shiny new cast wasn't compatible with getting down in the dirt, weeding, and foraging for vegetables. I said to myself, "Self, you can be neighborly and earn a new merit badge while doing so."
What could be better?
That was before I knew of Mr. Midgely's obsession preoccupation with zucchini.
Now I love a grilled zucchini as much as the next farmgirl. They're a tasty veg, and we're close friends.
But I never want to see another zucchini again.
Mr. Midgely evidently was preparing for alien takeovers, the zombie apocalypse, or a simple famine, because the dear man planted enough of the giant green vegetable to feed our entire town. And the next one over. Plus, most of Rhode Island and maybe Texas.
Before I knew what I had gotten myself into, I was knee deep in squash. Everywhere I looked, every time I turned around, I found myself surrounded. At first, they seemed a friendly enough sort of veggie, but after a couple of hours in the hot sun, my baskets laden with what felt like hundreds of pounds, they began to form menacing faces.
Remember the singing violets and roses in Alice In Wonderland?
Like that. Only more creepy. And less singing.
I seemed to be making no progress. Zucchinis were pressing in on me from each side. As soon as I picked one, I swore three more grew up instantly in its place! Like amorous bunnies, they were procreating right before my stunned eyes!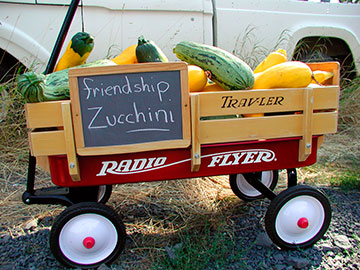 I had to get out of there. I lugged my two tons of squash with me as far as the porch, then left them behind when I started to hear them chuckling maniacally at me. It had to have been sunstroke, but I wasn't taking any chances. When the produce starts guffawing, it's time to take a break.
Mr. Midgely was watching his soap operas when I burst into the house. He seemed to understand my panicked look … after all, it wasn't his first garden. But I didn't appreciate the twinkle in his eye, all the same.
After a quick cookie and tea break, I went back to work. I wasn't going to be licked by a Curcurbita pepo! (You're welcome for that little bit of knowledge.) I hunkered back down in the dirt and threatened my enemy with all sorts of graphic promises:
to be sautéed in butter, and sprinkled with garlic salt
grated and used in muffins and quick breads
diced into a summer squash salad
sliced thinly and added to pasta
sliced thickly, battered, and fried
puréed into baby food
Or how about …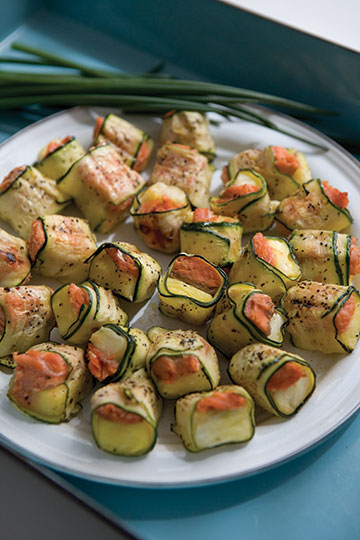 After my chilling guarantees, the zucchinis started to seem less intimidating and even began behaving themselves. I got each and every one picked, by Zeus, and wrestled into the house to be washed. Mr. Midgely's kitchen looked like a Zucchinis R Us store when I was done.
He watched me from his recliner, munching on cookies.
I'm getting skeptical about that leg.