The adorable, always humorous MBA Jane is my way of honoring our Sisterhood Merit Badge program, now with 6,035 dues-paying members who have earned an amazing number of merit badges so far—8,663 total! Take it away, MBA Jane!!! MJ 
Wondering who I am? I'm Merit Badge Awardee Jane (MBA Jane for short). In my former life …   
For this week's Stitching and Crafting/Scrapbooking Intermediate Level Merit Badge, I lovingly lined up my collection of glue sticks and a stack of scrapbooking paper that was only slightly higher than my head. (Hey now. Don't judge. I'm a doll. And a short one, at that.)
Now scrapbooking is a recent art form. At least I think it is. Has anyone ever written the historical history of the scrapbook? I didn't think so. Don't fret: there's probably a merit badge for writing one, and it's got my name all over it.
In calligraphy, with a sweet border, a strategically placed sticker, and a maybe a bow. See what I did there? Snort. I kill myself.
Anyway, scrapbooking can be an excellent way to de-stress oneself at the end of a long day, especially if you are the sentimental type (moi) and can't find your knitting needles to finish that long overdue scarf (also moi). And at the end of your de-stressing period, you'll have a lovely momento or gift (but you won't be able to wrap it around your cold neck during blizzard season, so you might want to find those needles eventually).
I decided to make my latest and greatest creation a Recipe Scrapbook. My Gramma Barbie had bombarded me lately with handwritten recipe cards and they were starting to invade every nook and cranny in my kitchen. An organized book was the way to solve all my problems! Well, not every problem: she was also mailing me, a few at a time, her collection of Beanie Babies. Sigh. They don't fit well on construction paper and they make the scrapbook really lumpy. I've tried.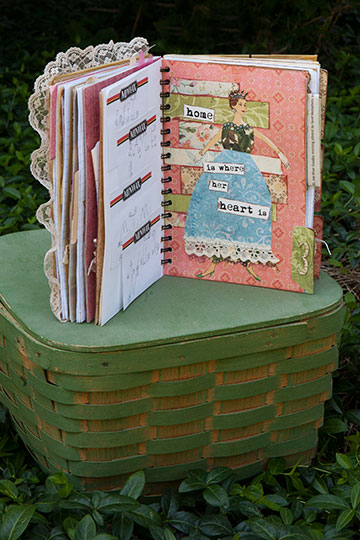 Mounting them on the walls, a pseudo kind of wildlife trophy art? With purple bears and sparkly cats? No? Too gruesome? Double sigh.
I sorted out my pile of recipe cards. One pile for the scrapbook, and one to … er, file away for later use. Or accidentally misplace. I mean, really, Gramma: hot dog weiner and jello mold? The '50s were a scary time, my peeps. Some of these recipes gave me more chills than the latest Steven King novel.
I am fairly certain that housewives, chefs, young homemakers, stay-at-home dads, and your Great Aunt Betty's first cousin twice removed would love to have this collection sitting in their kitchen. Weiner jello mold notwithstanding, of course.
What follows is something tastier, I assure you. And just in time for Halloween!
Apple Cider Halloween Popcorn Balls
2/3 cup popcorn kernels
2-4 T canola oil (leave out if using an air popper)
4 cups fresh local apple cider
2 cups brown sugar, packed
1 cup heavy cream
1/2 cup butter
1/2 cup organic honey
3/4 t salt
1/2 t vanilla
melted white chocolate, for drizzling (optional)
Pop corn however you like to pop it.
In a small saucepan, bring the apple cider to a boil. Lower the heat and cook until the cider is reduced to 1/2 cup, about 40 minutes. Pour into a glass measuring cup to see if it's reduced enough. When it's completely reduced to 1/2 cup, it will be a bit syrupy. Pour it into a larger, 3-4 quart pan with a tight-fitting lid, and add the brown sugar, cream, butter, honey, and salt. Bring to a boil. Lower the heat to medium and cover tightly with a lid. Cook for 3 minutes without removing the lid. Remove the lid, being careful not to drop any water back into the pot. Clip a candy thermometer to the inside of the pan and cook until soft-ball stage (236°F to 238°F). Add the vanilla after the caramel comes to the correct temperature. It will bubble up and splatter, so be careful! Stir and pour over the popcorn, stirring with a large wooden spoon. Stir in the white chocolate, if using.
Eat out of the bowl, or using buttered hands, form into balls and add a stick for easier eating.