Is it a bird? … a plane? …
No, it's a cow.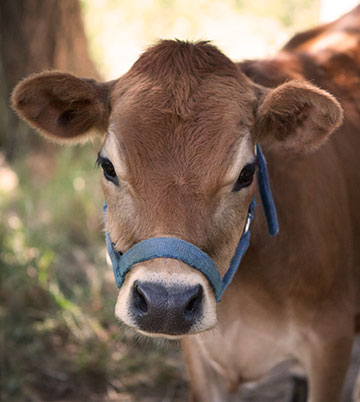 If we could trace the ancestry of my Miss Daisy far, far back, we would find a link to something called an auroch—the foremother of the modern-day cow. Wild aurochs were large, lean cattle who roamed the plains of Europe, Asia, and Africa by the millions. Auroch remains have been found that are thought to be 2 million years old.
Aurochs were still plentiful in the time of the Roman Empire, but aggressive hunting resulted in near extinction by the 13th century, when only nobles, and later royals, were allowed to hunt them, and poaching was punishable by death. The last known cow died in 1627 in Poland.
Efforts are now underway to "breed back" the species using modern DNA technology. A European breeding program has resulted in hundreds of second- and third-generation crossbreed cattle that resemble the auroch, and scientists hope to find a way to take DNA from the bones of aurochs in museums and recreate a modern-day clone.
What's next … a domesticated T Rex??! Fetch, Dino!